Map & Directions
How to Find Your Room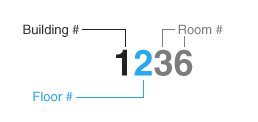 ---
MDC-West Parking
Visitor's Parking
MDC-West has limited visitor parking in Lot 1, located on the east side of Building 1, and is accessible on a first-come, first-served basis. Visitors are asked to pick up a Visitor's Pass at the Public Safety Department located on the 1st floor of Building 1.
Visitors should contact the Public Safety Department in advance to request a pass. Passes are available Monday - Saturday, 8 a.m. - 7 p.m.
Student Parking
As we continue to expand services to students and grow our facilities, student parking remains a concern of utmost importance. We are working diligently on making on-campus parking available for students. In the interim, we ask for your patience while student parking continues to be located at:
Non-stop bus shuttle transportation will be available between the campus and the mall. For additional information regarding student parking at West, please contact 305-237-8000.
Employee Parking
Parking is available on campus for faculty and staff in Lot 1.