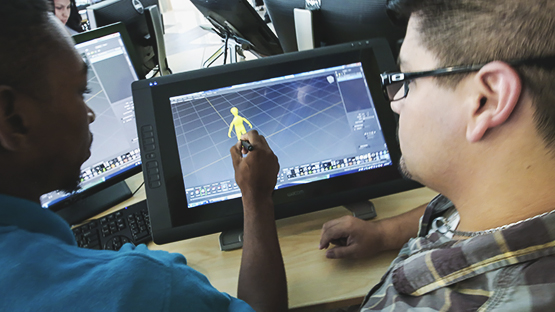 Overview
The Game Development curriculum at Miami Animation and Gaming International Complex (MAGIC) allows students to immerse themselves in the study of entertainment technology, while still pursuing a broad-based education.
The program has an emphasis on game programming, exposing students to a range of development and design processes. Students can further specialize in game design, production, game engines and systems, audio, graphics and animation, and Web and mobile applications. The degree is intended specifically for students who are interested in careers within the professional games industry or a related field, such as simulation, entertainment or visualization. This degree also provides students with a core computing education. Students will be mentored by industry professionals from world-renowned gaming studios while completing a game project.
Program Details
As part of this program, you'll explore a wide range of areas
User Interface Design
Game Development Project
Object Oriented Programming Using C++
Artificial Intelligence
Introduction to Game Development
Network Programming for Game Development
3-D Programming I
3-D Programming II - Virtual Reality
Career Prospects
Employment opportunities for graduates include:
Animator
Assistant Producer
Audio Engineer
Creative Director
External Producer
Game Designer
Game Programmer
Game Artist
Lead Artist
Lead Programmer
Level Editor
About the Associate in Science
The Associate in Science is designed to prepare students for immediate employment. Credits earned for many courses in these programs are acceptable to upper division colleges should you decide to pursue a four-year degree.
Why MDC's Game Development Track?
National recognition and regional accreditation
Seamless transfer of existing credits toward the degree
Conveniently located/scheduled classes
Quality education with an affordable tuition
Financial assistance
Program Location
Miami Animation & Gaming International Complex is located at: