Hialeah Campus Building the Future
MDC's Hialeah Campus is undergoing a major transformation that will result in a beautiful, modern, state-of-the-art college campus in the spring of 2014. The building plan integrates new and existing structures to increase the number of classrooms; establishes the first chemistry and biology labs at Hialeah Campus; and creates a one-stop hub for student services.

An art gallery and meeting spaces will draw the community to the Campus for professional and cultural events. Green, open spaces for recreation and enjoyment along with a garage with parking for more than 1000 cars will complete the new student experience at Hialeah Campus. For more information, call 305-237-8847.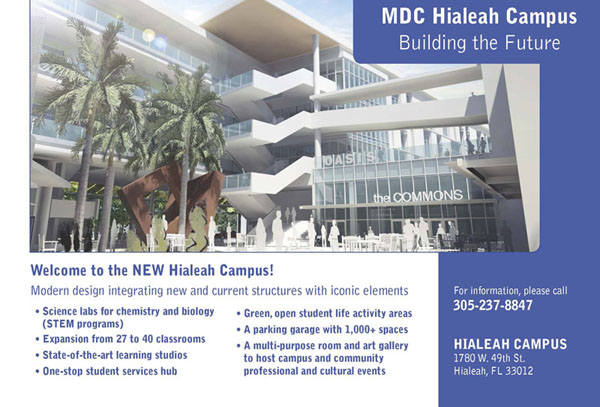 Parking Information
During our campus construction project all MDC student parking is located at the south side of the Westland Mall parking lot at 1675 W 49th Street. A shuttle bus is available to transport guests to and from the campus, or you may choose to walk. If you choose to take the shuttle, our recommendation is that you arrive 30 minutes prior to your scheduled class to allow for drive time.