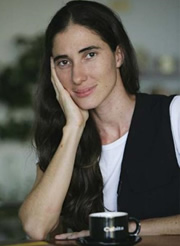 Internationally acclaimed and followed Cuban dissident bloggerYoani Sanchez will speak at Miami Dade College's (MDC) Freedom Tower on Monday, April 1, 2013, at 2 p.m., in what will be a free, but ticketed event.A limited number of tickets will be distributed on a first-come, first-served basis beginning on Mon., March 11, 2013, from 8 a.m. to 8 p.m., at four MDC Campuses – Hialeah, InterAmerican, Kendall and Wolfson.
The distribution will continue as long as tickets lasvt, at the same locations, during the same hours, Monday through Friday. There will be a limit of two (2) tickets per person, and, while those with tickets will have access to the venue, the tickets will not guarantee a seat. In addition, signs and banners will not be allowed into the venue and public safety personnel reserve the right to remove any disruptive attendees.
Please contact Public Safety in Room 1115 for ticket information.