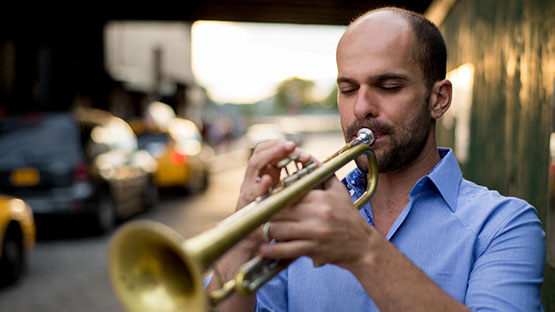 Amir ElSaffar
Trumpet
Wednesday, March 7, 2018, Noon
Wolfson Campus Auditorium
300 N.E. Second Ave., Miami, FL 33132
Building 1, Room 1261
Iraqi-American trumpeter, santur player, vocalist and composer Amir ElSaffar has mastered disparate musical styles and created a singular approach to combining aspects of Middle Eastern music with American jazz.

Recipient of the 2013 Doris Duke Performing Artist Award and the winner of the Carmine Caruso Jazz Trumpet Competition, ElSaffar is a skilled jazz trumpeter with a classical background who has created new techniques to play microtones and ornaments that are idiomatic to Arabic music but not typically heard on trumpet.

He is also an acknowledged performer and purveyor of the nearly extinct classical Iraqi maqam tradition, and performs actively as a vocalist and santur player. He currently leads four critically acclaimed ensembles: Two Rivers, the Amir ElSaffar Quintet, Safaafir and The Alwan Ensemble, specializing in classical music from Egypt, the Levant and Iraq. ElSaffar has also worked with jazz legend Cecil Taylor, and prominent jazz musicians such as Mark Dresser, Oliver Lake, Rudresh Mahanthappa and Vijay Iyer.

ElSaffar has released four albums, Two Rivers (2006), Radif Suite (2010), Inana (2011) and Alchemy (2013).