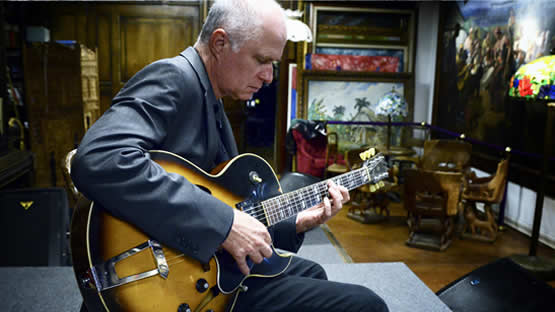 John Hart
Guitar
Wednesday, December 7, 2016, Noon
Wolfson Campus Auditorium
300 N.E. Second Ave., Miami, FL 33132
Building 1, Room 1261
John Hart is simply one of the most sought-after and prolific guitarists on the jazz scene today. A New York fixture for 30 years, Hart has distinguished himself not only as a bandleader with 10 CDs, including releases on prestigious labels Blue Note and Concord, but also as first call sideman to the stars.
He may be best know for a 16-year tenure with organist Jack McDuff, a gig which was a proving ground for many of the great jazz guitar innovators. JazzTimes said, "An alum of the Brother Jack McDuff Unversity of Jazz Guitar, John Hart can burn his way through blues changes on a level that's right up there with fellow graduates George Benson and Pat Martino."
Hart has also worked with Jimmy Smith and can be seen on YouTube performing with him at the Mt. Fuji Jazz Festival in 1990. Other associations include Lou Donaldson, James Moody, Jon Hendricks, and more recently, Dr. Lonnie Smith.
Hart's versatility is apparent when you look at some of his other associations. He has played in bands led by Brian Blade, Chris Potter, Larry Goldings, Bob Belden, Rick Margitza and Javon Jackson. He also has played with the Maria Schneider Orchestra for the last 20 years.
A prolific recording artist, Hart has appeared on 100- plus CDs as a sideman. His 10th CD as a leader, Exit from Brooklyn, was just released in April 2016. Hart now heads the Jazz Guitar Department at the University of Miami Frost School of Music.