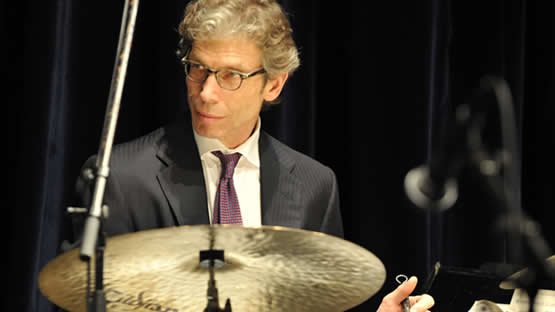 John Riley
Drums
Wednesday, April 5, 2017, Noon
Wolfson Campus Auditorium
300 N.E. Second Ave., Miami, FL 33132
Building 1, Room 1261
Critically acclaimed performer, author and teacher John Riley has worked with the world's leading jazz musicians for over 30 years. A three-time Grammy Award winner and 13-time nominee, Riley has played on hundreds of recordings and at major venues with Miles Davis, Dizzy Gillespie, Stan Getz, Woody Herman, John Scofield, Joe Lovano, Bob Mintzer, The Carnegie Hall Jazz Band, the Vanguard Jazz Orchestra and many others.
Riley is the author of The Art of Bop Drumming, currently published in five languages, as well as Beyond Bop Drumming, The Jazz Drummer's Workshop and the DVD The Master Drummer.
Riley has a Bachelor of Music in jazz Studies from the University of North Texas (1975) and a Master of Music in jazz studies from the Manhattan School of Music (1985). He is on the faculty of Manhattan School of Music and SUNY Purchase. He also serves as artist in residence at the Amsterdam Conservatory in Holland and has given master classes around the world.