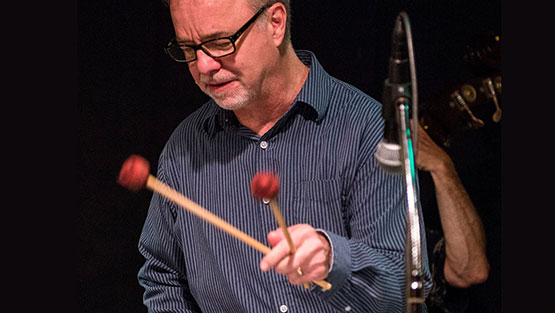 Rusty Burge
Vibraphone
Wednesday, February 14, 2018, Noon
Wolfson Campus Auditorium
300 N.E. Second Ave., Miami, FL 33132
Building 1, Room 1261
Rusty Burge joined the Cincinnati College- Conservatory of Music (CCM) faculty in 1992 as a member of Percussion Group Cincinnati. He has since performed throughout North America, Europe and Asia, including at the Japan World Drum Festival, Chinese International Music Festival, Taipei International Percussion Convention, the Ravinia Festival, Merkin Hall in New York City and the International Percussion Convention.

Burge has recorded with Percussion Group Cincinnati, making concerto appearances with more than 20 different symphony orchestras. He was formerly principal percussionist with the West Virginia Symphony and plays with the Cincinnati Symphony.

Burge received his bachelor's degree from the Eastman School of Music and a master's degree from CCM, where he now teaches percussion, jazz vibraphone and directs the CCM Steel Band.

Burge has recorded with Rich Perry, Peter Erskine, Dave Liebman, Rufus Reid, Steve Allee and Jim Rupp. His latest recordings are Faraway with Steve Allee, and Driftin' with Steve Houghton, Steve Allee and Jeremy Allen.