---
Alumni News
A voice for the Haitian community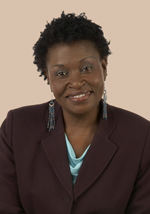 Marleine Bastien
Marleine Bastien is the founder, former president and current executive director of Fanm Ayisyen Nan Miyami Inc. (Haitian Women of Miami), commonly known by the acronym FANM – a word that translates to woman in Haitian Creole. FANM has provided desperately needed services not only to Haitian women and their families, but to the community at large.
Bastien is also the chair of the Florida Immigrant Coalition and vice chair of the Haitian-American Grassroots Coalition.
She says her time at Miami Dade College prepared her to take a leadership role in the multicultural community of South Florida.
"The memories I cherish most were meeting students from all ethnic backgrounds and walking the red carpet to the Gusman Center when I graduated," she said of her time at the College. "I can still see in my mind's eyes how happy and proud we all were. That was so grand!"
Founded in 1991, FANM helps immigrant women and their families by offering a wide variety of resources. Its vital programs include immigration and advocacy, breast cancer education and outreach, women workers empowerment, welfare education, family intervention and education.
Bastien is a true leader in the Haitian community of South Florida. A passionate and articulate spokesperson for Haitians, she formed the Justice Coalition for the Haitian Children of Guantánamo and also appeared on the Oprah Winfrey Show to discuss the devastating impact that the prolonged detention at Guantánamo had on Haitian children.
Bastien is one of the founders of the Haitian-American Grassroots Coalition, the Haitian Neighborhood Center (Sant La), the Center for Haitian Studies, the Human Services Coalition and the Florida Immigrant Coalition, among others.
She has been recognized with more than a dozen awards, and was named as "one of the 40 special people to watch in the next millennium" (The Miami Herald, 1999). She has received Amnesty International's Human Rights Award and was named one of Ms. magazine's Women of the Year. Additionally, Bastien received the Ford Foundation's Leadership for a Changing World Award in 2002 and is included in Essence magazine's 2005 list of "35 Most Remarkable Women in the World."
Bastien has dedicated herself to the betterment and the benefit of others – in health, education, economic survival and social justice. She consistently stands tall in the face of challenges and is always seeking fairness for the common good of our community – especially the women among us – and truly has made a difference.
— Staff report
More Alumni News Articles