---
Cultural Spotlight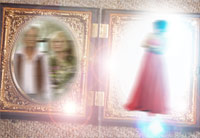 Spirited comedy at Kendall Campus
Noel Coward's beloved comedy, Blithe Spirit, will "visit" Miami Dade College this month. Kendall Campus will stage the supernatural play, directed by Ken Blatt, Dec. 4-7 and Dec. 11-14.
Blithe Spirit tells the story of a socialite, Charles Condomine, who is hilariously haunted by a ghost after he takes part in séance.
Charles, a novelist, and his wife, Ruth, have invited friends to join them for an evening with a local clairvoyant, Madame Arcati. The four friends are sure Arcati will be a harmless fraud. Much to their surprise, the table trembles, Arcati falls into a trance, and Charles hears the voice of Elvira, his first wife, who died several years ago. Frightened, he wakes Arcati, and the party breaks up.
As Charles shows the guests out, in walks the ghost of Elvira — but only Charles can see and hear her, and he and Ruth immediately quarrel about her presence. As the play continues, Elvira becomes increasingly desperate — and to the audience's delight, cunning — in her efforts to disrupt Charles' current marriage.
Suspense builds when accidents start occurring. Ruth insists that Elvira is trying to kill Charles in order to have him for herself again. Ruth leaves in a huff in the car, which Elvira had booby-trapped for Charles, and is killed in the ensuing "accident."
Charles, now alone, but not completely alone, teases Ruth and Elvira about how much he will enjoy his freedom. Vases topple, pictures come crashing down, the mantel breaks — and the curtain falls.
"Even though these characters represent a different time and class, I believe that the qualities they possess are universal. Everyone understands love, jealousy, rage and revenge," said Deborah Mello, theater department coordinator at Kendall Campus.
Written in 1941, the comic play takes its title from Percy Bysshe Shelley's poem To a Skylark. Premiering at the Savoy Theater in London in the same year, the play stirred controversy as it was seen as insensitive of death at the height of World War II.
These objections were quickly forgotten, however, and the play went on to set British box-office records. Its mark of 1,997 consecutive performances in the West End remained unbroken until 1970.
— Katherine Joss
More Cultural Spotlight Articles