---
Features
PR professionals recognize MDC students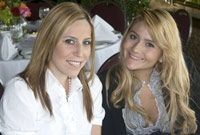 Scholarship winner Tiffany Huertas (right) with her sister Nevenkah Huertas
If Britney Spears gave you a public relations contract for one year, what would you do?
When that essay question appeared on a scholarship application from the Miami Chapter of the Public Relations Society of America (PRSA), it intrigued Tiffany Huertas, one of two Miami Dade College students who recently received the group's prestigious scholarship.
"I'm actually a fan of Britney Spears and I have felt what she's going through," Huertas said.
And, since Huertas is studying public relations and broadcast journalism, answering that question was an interesting challenge.
"She's just like any other person trying to have a career," Huertas said. "So, besides helping her change her ways, I'd try to change the way people perceive her."
Huertas' answer and her resumé, which includes an internship and freelance position at the PR firm Republica, landed her the scholarship. It will help her pay for the rest of her undergraduate education after she graduates from MDC this month.
Gabriel Ríos, an MDC student who is fluent in English, Spanish and Russian, also received the PRSA scholarship. He and Huertas were honored at a recent PRSA luncheon.
Chartered in 1948m PRSA is the world's largest professional organization for public relations practitioners. Its almost 20,000 members represent business and industry, counseling firms, government, associations, hospitals, schools, professional services firms and nonprofit organizations. It has 114 chapters in the country.
The Miami Chapter of PRSA operates the Ev Clay/PRSA Miami Chapter Endowment Fund Inc., the largest and perhaps oldest scholarship fund in the nation operated by a PRSA chapter. It began awarding scholarships in 1988.
Over the years, the chapter has awarded more than $100,000 to more than 70 students.
The main thing the scholarship committee looks at is how the essay is written.
"Writing is important," said committee chair Dr. Mary-Angie Salva Ramírez. "It is the basis of our profession.
"We also look at the ethics side of it – how they would go about doing this job. And, how they are applying the things they learn in school."
— Pilar Ulibarri de Rivera
More Features Articles