---
Features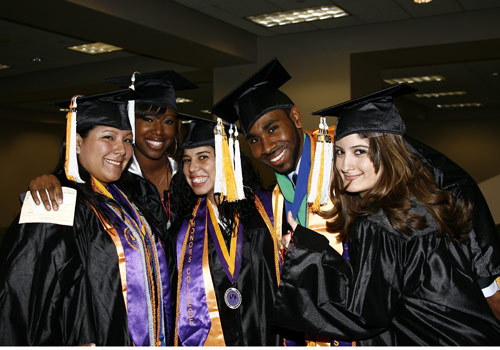 Institutional Research: Most graduates "very satisfied" with MDC experience
Ninety-four percent of Miami Dade College graduates said they were "very satisfied" or "satisfied" with the College overall, according to a survey of recent graduates.
Eighty-nine percent of MDC graduates rated the overall quality of instruction as "excellent" or "good" and 74 percent rated the quality of service as "excellent" or "good."
These ratings, compiled in the biennial graduate survey conducted by the College's Office of Institutional Effectiveness, are comparable to the results obtained in the 2005-06 graduate survey.
The graduate survey provides feedback from graduates on the factors that helped them succeed in their program, as well as ratings of instruction, course work and their overall experience at MDC.
The survey also gathers important information about students' perceptions of their own abilities related to the College Student Learning Outcomes at the time of graduation, and how much MDC has contributed to their attainment of those outcomes.
As in past surveys, graduates were asked to rate key factors to their success, including: their own motivation to obtaining a degree (91 percent rated "very helpful"), regular class attendance (73 percent rated "very helpful") and good study habits (70 percent rated "very helpful"). These same three factors were most important across degree, age, college-readiness and campus breakdowns. Graduates had very positive views of their abilities – 91 percent or more rated themselves "above average" or "average" on all 10 Learning Outcomes.
For all 10 Learning Outcomes, 70 percent or more of the graduates rated MDC's contribution as "very helpful" or "helpful."
The survey also showed:
Graduates clearly appreciated instructors who encouraged and motivated students; were knowledgeable, engaging and enjoyed teaching; and cared about students' progress. They also commented positively on faculty who explained course material thoroughly, were available to help students, communicated well with students and challenged them to do their best.
Graduates said the best courses they had were those related to their major, those in which the instructor was excellent and courses that were challenging. They also said they enjoyed classes in which participation and discussion were encouraged, courses that included "hands-on" experience, and courses typically described as "general education," such as English, math and psychology.
— Joanne Bashford
More Features Articles