---
College Notebook
The Best Choice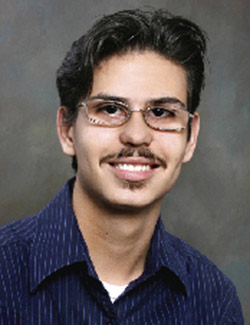 Born and raised in Miami, Richard Shutes chose to study at The Honors College because it was simply the best choice.
"It was a place where I knew I would be challenged academically and where I would receive two years of college education completely paid for," he said.
"I felt fortunate to have that opportunity."
His first day on campus was especially memorable because it happened to fall on his birthday. But there was no contest between what was most important to him on that day.
"It was amazing; I was surrounded by students with the same goals and aspirations, all having the same academic experience," he said.
"Everything was new. There were many opportunities to adapt and improve myself," he added.
Shutes has learned many things since his first day at MDC but he says that the most valuable lesson is how to manage his time – an important skill that the psychology major will surely continue to use as he forges ahead in his academic career.
Being a part of The Honors College forced Shutes to learn to "delay gratification" in order to accomplish tasks on time and at a higher level. He said that he learned to prioritize and sacrifice his personal life when his education demanded his attention.
"It was crunch time. I had several friends in town – most of them I hadn't seen since we all left for college – but I also had a term paper due. I knew that I had to say no to the reunion so I could finish the assignment, keep my GPA up and stay in The Honors College. At the time, that level of dedication was new for me but now it feels like second nature," said Shutes.
— Katherine Adjemian
More College Notebook Articles