---
College Notebook
The Budding Humanitarian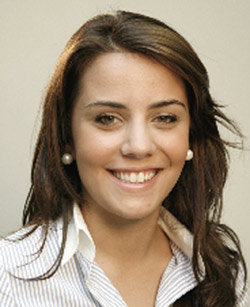 Stephanie Jiménez has already accomplished a great deal by the age of 19. A political science major and a student in The Honors College, Jiménez has attended the Model United Nations in New York City, participated in the student government program in Washington, D.C. and attended the Salzburg Seminars in Vienna. On the personal side she is a former Ms. Kendall and is the reigning Ms. Hialeah.
Growing up in a Cuban family immersed in politics, Jiménez always wanted to pursue a life of public service. She views MDC as a stepping stone to her future.
"My two years at MDC exposed me to a kaleidoscope of multicultural events," Jiménez said. "The rigorous academics at The Honors College instilled in me an insatiable quest for knowledge. I was taught how to make a difference for my family and community."
The Model UN in New York City was a very intense experience for Stephanie. "After months of preparation I was able to live the life of a South African diplomat for a week," Jiménez explained, noting how invigorating it was to walk into rooms and hear greetings from all over the world, like guten tag (German), hola (Spanish), al salaam a'alaykum (Arabic) and bonjour (French).
The Salzburg Seminars had a profound impact on Jiménez. "We were given the task of working with a group of strangers to create an action plan for the energy crisis that could be applied back home," she said. "It was amazing to learn from a different perspective. It also was invigorating to sit with some of the world's top scholars and discuss timely issues like sustainability and how we could contribute solutions."
Jiménez plans to obtain her bachelor's in political science and minor in philanthropy. She also plans to study law and develop a nonprofit organization that focuses on the three E's: education, experience and empowerment.
— Barbara Bickel
More College Notebook Articles