---
College Notebook
Economist and Environmentalist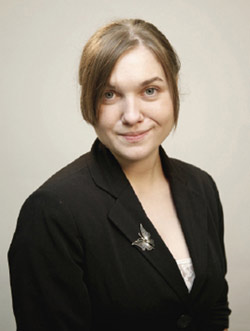 Yevgeniya "Eva" Litvineko, a native of St. Petersburg, Russia, and a Miami Dade College honors student, is passionate about the environment and plans to dedicate her life to helping preserve it.
"When I complete my business administration degree here I plan to go into a four-year program and focus on a dual major in both economics and environmental science," Litvineko says. "To solve environmental problems means to make the environment around us not only healthier but more pleasant to live in. And the world economy is the force that will make this happen. I want to promote a sustainable economy and take part in making it a reality. Combining these two fields will let me accomplish that."
Litvineko believes that Miami Dade College was an amazing backdrop for her growth. "The Honors College supports academic curiosity and exposed me to many areas and possibilities for the future," Litvineko explains. "The faculty and advisors continuously challenged me with topics that were completely new to me. It was fascinating!"
Litvineko also participated in the Student Government Association (SGA) and worked on the student paper.
"While I was involved with the SGA I learned that making community change requires the ability to work as a group and to consider every voice," Litvineko said. "Working on the newspaper was a completely new experience and I learned a tremendous amount. I also was able to raise awareness about environmental issues so it was a great opportunity for me."
Litvineko recently had an interview at Mount Holyoke College in Massachusetts and is waiting to hear about acceptance.
— Barbara Bickel
More College Notebook Articles