---
College Notebook
A Launch Pad for Greatness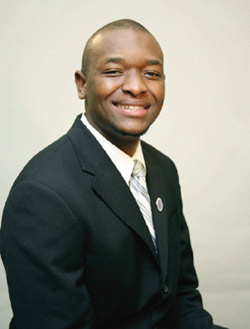 Four years ago, Rudy Joly emigrated from Haiti to Miami for a better life and to continue his education.
"Choosing Miami Dade College is unequivocally one of the wisest choices I have made so far in my life," he says. "I really believe The Honors College has been a dynamic launch pad for my future career."
Rudy, a biology major, was selected for The Honors College's prestigious Bridge program, a partnership with the University of Miami (UM) that is designed to nurture minority students' interest in science and encourage them to consider careers in medical research.
"I learned how to effectively present research posters, write a scientific paper and, very importantly, how to think like a scientist," says Joly, who intends to continue his studies at a four-year institution, where he will pursue a double major in biomedical engineering and public policy.
"I chose biomedical engineering because I am fascinated by both medicine and engineering," he explains. "I also want to be involved in public policy, because the American health care system is in dire need of change, and I want to help bring that about."
Joly hopes to become part of a team of scientists who find ways to stave off diseases of the aging.
"I hope to have a positive impact as a researcher and leader to help this country, which has given me so much, and to help my birth country Haiti and perhaps the world," he says.
Joly has been accepted to UM, Tulane and Tufts, and he's landed an internship at Columbia University.
— Barbara Bickel
More College Notebook Articles