---
Cultural Spotlight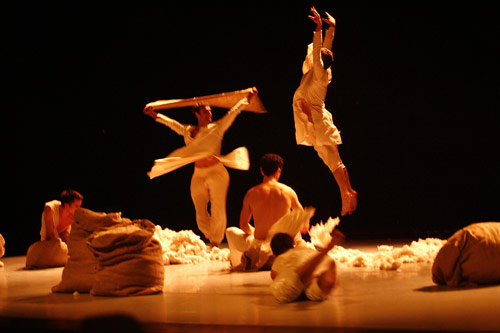 Web Extra: Compagnie Thor Closes Cultura del Lobo Season
Compagnie Thor, a Belgian dance ensemble, made its debut in the United States as part of Miami Dade College's Cultura del Lobo Performance Series with the new dance project D'Orient. The striking work closed the 2007-08 season with a colorful, intimate and exotic bang.
D'Orient was inspired by, and pays abundant and respectful homage to, the Muslim-Arab world. It was born out of choreographer Thierry Smits' fascination with northern Africa and the Middle East. Smits created the work after a series of trips from Morocco to Syria, through Tunisia, Egypt and Lebanon.
"Even though our series focuses primarily on work from the Americas, we recognize that the histories, culture and art forms of the Middle East, Africa, Asia, Europe and the United States are all present in Latin America and the Caribbean," said Greg Jackson, Cultura del Lobo artistic director.
A captivating work that is flooded with light and filled with sensuality and generosity, D'Orient uses eight male dancers to comment on the roles, relations and codes of a traditional patriarchal society and a modern and urbanized world.
The captivating work incorporates traditional regional dance and modern ballet techniques. And despite its subject, the dance is not an attempt at political analysis; it is, rather, a visceral, aesthetic experience.
"The performances in the Series provide a perfect opportunity for public discourse on current foreign and domestic matters – within the context of cultural sharing," Jackson added. "I believe it is the best way to dispel cultural stereotypes and myths."
Based in Brussels, Compagnie Thor was founded in 1990 by Smits. His work explores – often in an eclectic manner – the bonds between mystic and erotic and the ambiguity between the sacred and corporealness. With D'Orient, he continues to "question the metaphysical problems of the individual's state of mind and emotion."
With an experienced group of top performing artists from many different backgrounds, the company has established its reputation touring throughout the world.
— Katherine Adjemian
More Cultural Spotlight Articles