---
Cultural Spotlight
Wolfson Students Hear From Renowned Collector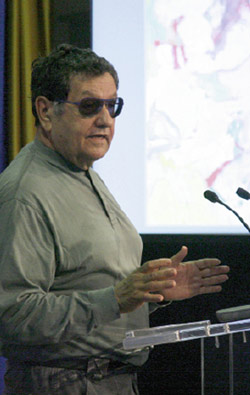 Martin Z. Margulies has a passion for art. The success of his real estate development career allowed him to begin collecting in 1976 with a piece by famed sculptor Isamu Noguchi, and he has gone on to build one of the most important collections of contemporary American and European art in the world today.
He lectured to a rapt audience of more than 300 visual arts and humanities students at MDC's Wolfson Campus about the importance of art and his own deep connection to it.
"This was a very special opportunity for our students to spend time with a world-renowned collector and to gain the awareness that art is not just in museums, but also understood and appreciated by private individuals," said Barbara Swan, the MDC Foundation senior development officer who helped to organize his campus visit.
Margulies detailed specific objets d'art from his collection chronologically, starting with early acquisitions and ending with recent purchases. He offered a brief history of each movement that he collects – from abstract to pop to minimalistic – and warmed the audience with anecdotes about the artists that define them.
"Robert Motherwell was once asked why his work didn't sell at the prices that Mark Rothko's or Jackson Pollock's did. His reply: 'I made the mistake of living'," Margulies said with a smile.
He spoke extensively about the pieces themselves, often explaining how a particular piece relates to the artist's oeuvre or the movement as a whole. The tone was educational but Margulies emphasized his personal relationship with his collection. "I feel the presence and rhythm of the art in my collection. Without my art, I would feel naked," he said.
When asked if he could select one object with which he feels a particular fondness or spiritual connection, Margulies politely deferred.
"Well, it is a little like having children: They each have their moments, but I do not favor any one above any other," he said.
The Martin Z. Margulies Foundation was founded 27 years ago to provide arts education free of charge to the public. Believing that education can help break the chain of poverty, the philanthropy and programming of the foundation focuses on students from disadvantaged backgrounds.
— Katherine Adjemian
More Cultural Spotlight Articles