---
Features
Star Athlete Takes Center Stage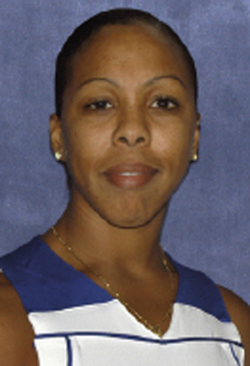 Dayna Rodríguez brings experience and heart to Miami Dade College's women's basketball team. And her incredible strength – visible on and off the court – inspires those around her.
Rodríguez came to the United States in July of 2006 and started at MDC's Kendall Campus later that same year. A few short months were all she had to adjust to life in a new country, a new culture and a new school environment. Thankfully, basketball needs no translation.
"I left my mother and my brother in Cuba and came to this country alone, knowing no English," she said, "but I always had basketball."
When she was younger, many people saw Rodríguez's potential to be a star athlete. She was promoted to Cuba's national team and on a trip to play in Mexico, defected to the U.S. to live in Miami with relatives. Miami Dade College was a natural choice because of its accessibility to students who want to learn English.
Rodríguez was also thankful for MDC's diversity. "It is a great place because so many different types of students are represented here," she said.
In her effort to adjust to life in the U.S., she relied on basketball – a familiar comfort in strange land – and worked hard to learn her new team's dynamic.
"She has an extraordinary work ethic and she loves to win. Those are great qualities in any player," says Susan Summons, women's basketball coach.
Rodríguez is an unselfish player, always willing to pass so a teammate can make a play, Summons said.
She is also talented and smart enough to stand in for any player in any position, when needed.
"Rodríguez is my center but I have seen her play effective forward, guard and even point guard this season," Summons says.
For all of these reasons, Rodríguez was recently named to the 2008 Women's Basketball Coaches Association State Farm All-American team and now has more than 50 college opportunities ahead of her. While she has narrowed it down to top-30 Division II schools, she said she is honored to be recognized and recruited by so many wonderful programs. "I don't think she even realizes how strong she is," said athletics director Jim Cox. "With offers from top schools, she will surely dominate in years to come."
Summons agrees wholeheartedly. "She has a very bright future ahead of her," she said. "I anticipate that once she finishes school, she will be a solid WNBA prospect."
— Katherine Adjemian
More Features Articles