---
Features
MDC Routs NYU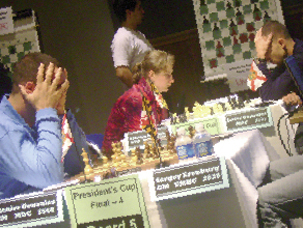 Miami Dade College's chess team toppled New York University and nabbed third place at the nation's top intercollegiate chess tourney, the Final Four tournament.
This was the team's sixth consecutive placement in the nation's top collegiate chess tourney. The team was comprised of Renier González, captain and grand master-elect, Charles Galofre, Javier González, and newcomers Ernesto Alvarez and Devlin Sinclair.
Since its inception in 2002, MDC's chess team has enjoyed a rags-to-riches story. In 2004, the U.S. Chess Federation dubbed MDC the Chess College of the Year (more than 120 institutions jockeyed for the honor). The chess team also hosted the Pan American Intercollegiate Chess Tournament in 2005 and 2007, and continues to be the only community college team to make it to the finals each year.
This year's Final Four were (in order of placement) University of Maryland at Baltimore County, University of Texas at Dallas Miami Dade College and New York University.
— Staff Report
More Features Articles