---
Features
The Problem Solver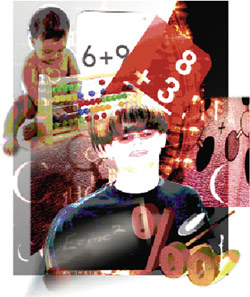 When Luis Ares' parents harp on him, it's to put down the math books.
"I guess they're partially right," said the 17-year-old high school student who is dual-enrolled at Miami Dade College through its School for Advanced Studies.
He thinks his parents, both electrical engineers born in Cuba, sometimes think he's "a little crazy" because of his consumption with the subject. "But to me there's no such thing as doing too much math," he said.
Since he learned how to add and subtract, math has been Ares' hobby and passion. It recently landed him second place at the statewide college-level integral competition.
"I believe this year's integral contest is the first in which a high school student has placed," said longtime MDC math professor Patrick Bibby about the contest that is open to any undergraduate or high school student in Florida.
Ares and more than 100 students were given half an hour to answer as many math questions as they could. He got the second most correct answers, placing second to Tram Ta, a recent MDC graduate who placed first in the statewide competition for the second consecutive year.
Last year was the College's first year in the competition and Ta took first place in the individual contest and led MDC to a second place team standing.
"Until we got involved in the competition, all first and second places had been won by students from Manatee Community College in Bradenton," Bibby said.
Ares has found a second home among the students who have placed MDC at the top of the competition.
"It's great to meet other people who love math as much as I do; we can talk about it for hours," he said. "Outsiders might hear us and not understand, but we all love to talk to each other about it."
The high school junior hopes his passion will eventually lead him to a master's degree from either MIT or Caltech, ranked No. 1 and No. 6 on the U.S. News & World Report's list of top engineering graduate schools in the country.
"I want to become a mathematician and make a contribution to the advancement of science and technology," he said.
Simply put: Ares wants to make a difference.
"I love to solve problems," he said. "It's my talent and I feel I should use what I was given."
— Pilar Ulibarri de Rivera
More Features Articles