---
Alumni News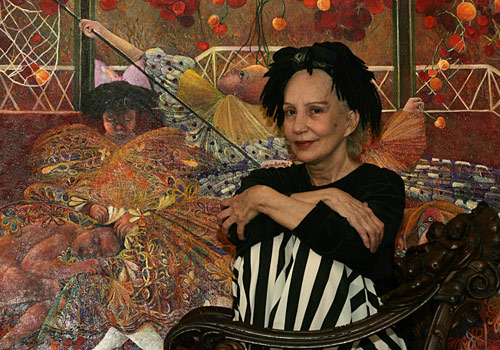 The Artist's Soul
The woman known for decades as simply Demi has spent 23 years painting images of children.
In an interview with James Burnett III of The Miami Herald, she said she paints children because her childhood was not a very happy one. "But I have been able to channel those feelings through art," she told the Herald. "And they come out naturally."
More than 380,000 readers of the Sunday Herald (and another 313,270 online readers), had an opportunity to view some of Demi's work, pieces from a collection of called Beyond Frontiers that was presented as a solo exhibition by the Gómez Fine Art-Galería during the recent arteaméricas.
In just six years, arteaméricas has grown into one of the world's most prestigious fairs of Latin American art. This year, 70 of the best galleries from throughout the hemisphere were in attendance. Inclusion of Demi's work was a major honor for the woman who began her creative explorations at MDC.
Demi moved to Miami in young adulthood; it is her home. "Although I did not grow up in Miami, my connections with the city and the College are as strong as those who did," she told College Forum in a recent interview.
To help support the household, she worked full time as an assistant bookkeeper. Emotionally, however, she was unsatisfied. So she started taking acting class at Miami Dade College's Wolfson Campus at night.
The acting classes were an emotional outlet, she explains.
"Little did I know that by making that decision I was putting into motion, into place, the first steps toward a not too distant powerful change in my life," she said.
At the College, she joined the Prometeo Theatre, now part of the Florida Center for the Literary Arts, which deepened her sensibility as an artist. But she admits to the Herald that she was a "terrible" actress. "I had pent-up emotions, and I just couldn't figure out how to get them out on stage," she said.
She was cast in a bit role in Prometeo's production of Life Is a Dream. A local artist, Arturo Rodríguez, was hired to design invitations to the production. "I played the smallest part in the play, Estrella, but I had the good fortune that he noticed me," she said.
They married, and in 1983, he landed an artistic grant that took them to Spain for a year.
"That's when my eyes were opened," Demi says. "He took me to opera, to concerts, to galleries, to jazz shows – every display of every possible art form there is. And in the end, when we returned to America, I told him: 'I want to paint! Get me a canvas!'"
On the canvas, Demi paints images of "haunting children with baby-doll faces," writes Burnett. "The scenes are ethereal, fantastical, dreamy in a sense that exudes peaceful, safe, play settings. They are images you might see through the looking glass. And up until about six years ago, Demi says, all her babies were bald."
In creating her most recent painting, En un coche de agua negra, iré a Santiago (In a Car of Black Water, I Will Travel to Santiago), Demi found inspiration in the poetry of the late Federico García Lorca. The result is the "most mature of Demi's children – a young woman dressed in white, garnished with lilies, riding in a carriage pulled by black horses."
"It's like I'm going someplace. My children are taking me someplace new," Demi told the Herald. "Where? That will have to wait for my next painting."
— Gariot P. Louima
More Alumni News Articles