---
Alumni News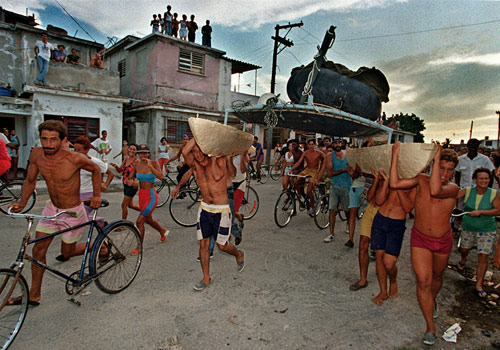 From Catalyst to Pulitzer
Alumnus Al Díaz lives an unusual life. A renowned photojournalist, he travels the United States, Latin America and the Caribbean covering breaking news, sports and feature stories for The Miami Herald.
Díaz has numerous outstanding credits. He was part of the Herald's news team that won the 1993 Pulitzer Prize for coverage of Hurricane Andrew. That year he also was awarded a Robert F. Kennedy Journalism Award for portraits of needy families during the holidays.
Díaz has photographed four U.S. presidents, the U.S. invasion of Panama, the coup attempt of Venezuelan President Hugo Chávez, the 2004 Summer Olympics in Athens, several Super Bowls and NCAA National Championship games.
In addition, the Historical Museum of Southern Florida has exhibited his photographs, including Balseros – A Desperate Journey (above), the Cuban exodus that led to the 'Wet-foot, Dry-foot' U.S. immigration policy.
Díaz earned his journalism degrees at Miami Dade College and the University of Florida.
Díaz said he arrived at the Miami Dade College's Kendall Campus unsure of himself or which direction to follow. "I joined the staff of the Catalyst, the campus newspaper, as a photographer," he said. "Working for the paper boosted my confidence and became a pivotal moment in my life because it ignited a burning desire to succeed as a photojournalist."
Díaz has received honors in the prestigious National Press Photographers Pictures of the Year, Southern Photographer of the Year, Florida Society of Newspaper Editors, National Association of Hispanic Journalists and Best of Photojournalism competitions.
More Alumni News Articles