---
Features
From Russia (to Estonia) with Love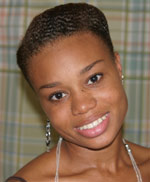 Veronica Dunlap landed an internship at the U.S. Embassy in Tallinn, Estonia.
In 2007, Veronica Dunlap spent a life-changing semester abroad in Moscow. The experience reaffirmed her vow to one day become a U.S. foreign diplomat. Now, she is one step closer to that dream.
Dunlap has earned an important internship through the U.S. Department of State – at the U.S. Embassy in Tallinn, Estonia – where she will work in support of the consular mission and learn the ins and outs of working in a foreign embassy.
Her work will be focused primarily within the public affairs sphere. Dunlap will be responsible for managing a citizens group that travels the region promoting the U.S. and maintaining good relations between the countries.
"To promote the ideals of the U.S. by bringing top cultural and arts-related events to the country is one of the most exciting elements of this amazing internship," she said.
She will also document the progress of the traveling group and draft reports on the process. Lastly, she will attend events that are specifically and distinctly Estonian, to develop her own cultural understanding.
The internship is a prestigious appointment and she is honored by her selection.
"The application process was intense and after some research, I discovered that most of the previous interns came from top Ivy League schools," Dunlap said. "It was intimidating."
She is especially thankful to Hilarión Martínez – a U.S. Diplomat in Residence (DIR) being co-hosted by MDC – who offered valuable advice and was available to answer her many questions.
"The DIR program is central to the effort to recruit the best and brightest to represent America's rich diversity to the world," Martínez said. "A career as an American diplomat does not have to be a dream. I am here to help make it a reality."
"He speculated that I would be the likely choice for Estonia, because of my past experience in Moscow and my familiarity with the Russian language," Dunlap said.
With glowing recommendations from two references and a knowledgeable guide leading her, she submitted her carefully written application. She was thrilled to receive confirmation that her application was accepted.
Of the many elements in this exciting internship, Dunlap says that one stands out above the rest. "In particular, I look forward to positively representing my nation," she said.
— Katherine Adjemian
More Features Articles