---
Alumni News
For Public Defender, Shark Years Led to Service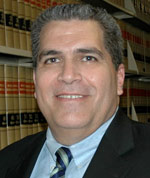 Carlos Martínez
When Carlos Martínez, who was recently elected public defender for the 11th Judicial Court, found out that he was the first Cuban-American to be elected to this role in the U.S., he was surprised.
"There are Hispanic public defenders in Texas and California, but it came as a surprise that none were Cuban-American," he said.
Martínez came to Miami in 1969 on the Freedom Flights when he was only 9 years old. He remembers when the thought of going into law first entered his mind: As an altar boy, a priest suggested the career for him because of his argumentative nature.
That skill came in handy when he enrolled at Miami Dade College and took an English course that stressed not only writing, but speaking.
"You actually had to speak and support your paper," he said. "That was very memorable because it was an opportunity for me to realize that I could actually present arguments and explain what my thoughts were, not just on paper but also speaking. We were challenged, so that was very valuable."
Martínez, the chief assistant public defender under Bennett H. Brummer, will take office in January 2009 when Brummer, the longest-serving elected official in Miami-Dade County, steps down after serving eight four-year terms in office.
He hopes his election will inspire other minorities to seek careers in public law and fight for people's rights.
Known widely for his efforts for juvenile justice reform, his work on drug courts, offender rehabilitation and children's legal needs, Martínez plans to also tackle mental health and veteran trauma rehabilitation issues.
He said he's focused on protecting the role of public defender after a 9 percent budget cut last year resulted in a loss of employees in the public defender's office.
"The public defender role is a constitutional role – to protect the individual that cannot afford an attorney," he said. "Right now we're fighting to stay alive and ensure that the right to an attorney really means something."
— Natalia Maldonado
More Alumni News Articles