---
College Notebook
Sharks Steal the Show in 2008-2009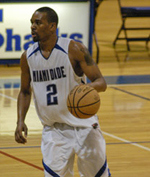 The men's basketball team was the Southern Conference runners-up. It is led by head coach Matt Eisele.
Intercollegiate athletics is a rich and active part of the Miami Dade College experience.
This year, student-athletes provided the College many proud moments by winning four Southern Conference championships and compiling an overall winning percentage of 75.6, the highest combined win percentage in the history of the College athletic program.
"It is very unusual and special for any collegiate athletic program in the country to attain such a high winning percentage across their entire program," said James Cox, director of Collegewide athletics.
"Our excellent coaching staff, outstanding facilities, college support and the ability to attract talented student-athletes into each of our sports is a testament to the overall excellence of Miami Dade College," Cox added.
Historic Season
Combined, the five teams won 152 games against only 49 losses. The historic 2007-2008 season witnessed four out of the five College teams qualifying for the FCCAA State Championship Tournament as Southern Conference champions. Additionally, more than 35 student-athletes were named to All-Conference, All-State and All-American teams.
Steve Hertz, head baseball coach, with 24 seasons and 822 wins completed at the College, believes MDC's athletic success is due not only to the talented players, but the commitment of the players and coaches to achieve their championship goals.
"Our players gave so much of themselves that we were ranked No. 1 in the nation after starting the season 19-0," Hertz said.
Eight MDC baseball players were drafted into the major leagues, the highest number of all the colleges in the country. 
"Participating in athletics helps our students become disciplined, focused and committed," Hertz said. "They learn teamwork, goal setting and sportsmanship and how to deal with success and failure."
Matt Eisele is the men's basketball coach and the youngest head coach among all collegiate men's basketball coaches in the U.S. He just completed his first year at MDC with an outstanding 18-9 record.
"The men's basketball team takes pride in our family atmosphere," Eisele said. "Our success as a team is a direct reflection of how hard we work together. Success cannot happen unless both academic and athletic goals are prioritized and realized."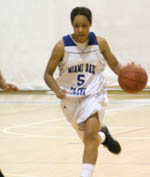 The women's basketball team, under the leadership of coach Susan Summons, ended theseason as Southern Conference champions.
Scholar Athletes
Coach Susan Summons has compiled 351 wins in her 22 years at the College. "Our women's basketball athletes have learned that success results from preparation meeting hard work," Summons said. "In addition, we stress excellence in the classroom. Our students are motivated to earn scholarships to the university level."
Coach Carlos Caro led the Lady Sharks softball team to the Southern Conference championship in 2008 for the first time since 2000.
"Our success begins with students understanding that they play for MDC and not for themselves," Caro said. "Athletics keeps students intently focused on their academics because of the GPA needed to be eligible to play. They learn how to manage their time to give equal effort to academics and athletics."
Kiko Benoit, volleyball coach, is proud of the team's reputation as the most successful national team, having won eight national titles.
"MDC athletics is committed to the total student-athlete, to be successful both academically and athletically," Benoit said. "We firmly believe that those who give less than 100 percent effort in the classroom will also give less on the court. We expect our students to be 100 percent student and 100 percent athlete."
Benoit has accumulated 90 wins, leading the Lady Sharks to an impressive three consecutive Atlantic District Championships and two national runner-up finishes in 2005 and 2007.
In closing, Cox emphasizes that the athletic program mission is to provide student-athletes a total college experience.
"More than 30 percent of our student-athletes obtained a 3.00 GPA or higher," Cox said.
This academic success, he said, earns them academic and athletic scholarships to the top programs in the country.
"Our goal is for the reputation of MDC athletics to have the same first-rate reputation as MDC's academic programs," Cox said.
— Barbara Bickel
More College Notebook Articles