---
Cultural Spotlight
Professor's Novel Praised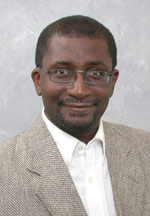 Professor Preston L. Allen
All or Nothing, a novel about gambling addiction by MDC English professor Preston L. Allen, was featured in a recent New York Times Review of Books.
P is an unlucky, degenerate gambler who discovers that winning and losing are not all that different. It's a subject that Allen says he knew well.
"I knew P. I had been him, I had met him, I had encountered him in casinos," Allen said.
In his book review aptly titled "The Gambler," Times contributing columnist Andrew Hultkrans writes, "the chief virtue of All or Nothing is its facility in enlightening nonbelievers, showing how this addiction follows recognizable patterns of rush and crash, but with a twist — the buzz is in the process, not the result."
Hultkrans continues by comparing Allen's style to that of one of Russia's greatest authors. "Like Dostoyevsky, Allen colorfully evokes the gambling milieu — the chained (mis)fortunes of the players, their vanities and grotesqueries, their quasi-philosophical ruminations on chance."
"I was honored by the review," Allen said.
Allen teaches composition and creative writing courses at MDC. His published works include: Hoochie Mama (2001 finalist for the Gold Pen Award), Churchboy and Other Sinners (2002 winner of the Sonja H. Stone Prize in Fiction), Bounce (2003) and Come With Me, Sheba (2004).
He offers this advice for young, unpublished writers: "Be honest. Write what you know. Write as though you know. It is important to learn the craft of writing from other authors that you've read, but authenticity comes from within. Authenticity comes from personal truth. Speak your personal truth and you have found your voice as a writer."
Allen is a recipient of a Florida Individual Artist Fellowship in Literature. He holds a Bachelor of Arts in English from the University of Florida and a Master of Fine Arts in Creative Writing from Florida International University. He teaches full time at North Campus.
"When I hear a strong character's voice, I follow it. It is a part of me … and then the story comes," he said.
Allen hinted that his next novel would further develop a character – and a relationship – introduced in Churchboy and Other Sinners.
"I hear the churchboy's voice and I am telling his story."
— Nicole Tallman and Katherine Joss
More Cultural Spotlight Articles