---
Features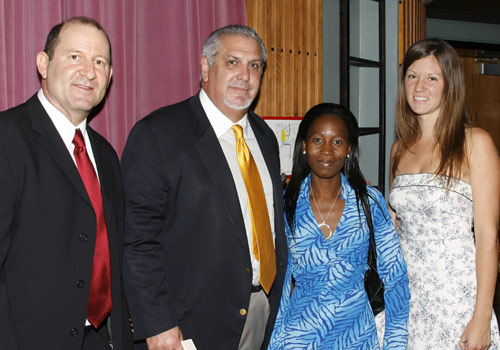 Student Volunteers Honored for Service
The President's Volunteer Service Award Ceremony at Miami Dade College – the largest ceremony in the state and one of the largest in the nation – is part of the federal government's efforts to encourage youth civic engagement.
"More than 300 people attended the second-annual awards ceremony to support those students who dedicate their time to others'," said Josh Young, director of MDC's Center of Community Involvement.
The celebratory event was held at North Campus' Lehman Theater in June. Presented by the Center for Community Involvement and the Office of Student Life, the reception and ceremony honored more than 120 compassionate students.
Federal award recognition for individuals is based on the completion of a minimum of 100 service hours in a 12-month period. For the first time, clubs and organizations – with a minimum of 200 service hours – were also recognized.
More than 5,000 students a year participate in academic service-learning at MDC, and thousands more serve the community through their involvement in student clubs and organizations.
"Our students report that as a result of their service-learning, they are more likely to continue volunteering for the rest of their lives – and that is one of our goals," Young said. "MDC is nationally recognized for our commitment to community engagement and service-learning, and this award ceremony is an excellent way to celebrate the invaluable contributions of our students."
Individuals who have completed more than 4,000 hours of community service are recognized with a special lifetime achievement award. Cheryl Séjour, 52, was one of only two honored at the ceremony, for more than 17 years of volunteer work with national and international organizations.
Through her church, Séjour organizes Reaching Our Community events in Miami's inner city neighborhoods, helping to provide free groceries and health screenings, as well as fun and safe activities for children and teens. She is also working on a bachelor's degree in early childhood education at North Campus.
"Community service is something that was just put in my heart," Séjour said.
The event featured a keynote address by "South Florida icon," Dr. Pedro José Greer, a physician, educator and advocate for the homeless. Greer has won many awards, including the prestigious MacArthur Fellowship and has served as an adviser on homelessness to both the Bush and Clinton administrations.
— Katherine Joss
More Features Articles