---
Features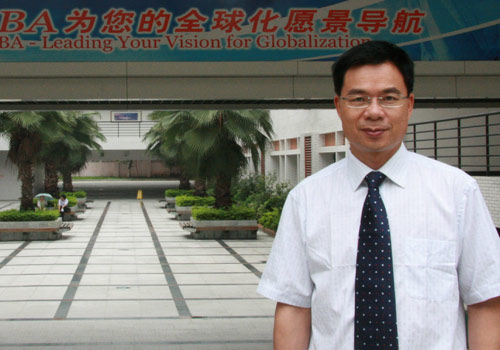 Fulbright Scholar to Broaden Student Horizons
Business students at Kendall Campus will soon learn about one of the world's fastest-growing markets from a scholar with first-hand experience.
Lei Huang, a dean of an MBA program and business professor in Guangzhou, China, will spend the coming academic year at Kendall Campus as a scholar-in-residence.
A recipient of the Fulbright Scholar grant, Huang will teach courses in international business and financial management at Kendall Campus, in addition to serving as a cultural ambassador to the College.
"My visit to MDC will afford the students and faculty of MDC valuable opportunities to explore not only the Chinese economy and markets, but also Chinese society, culture, values and language," Huang said.
Huang's teachings will focus on the practices of southern China, helping to open doors for student exchange programs between Chinese and American institutions.
"Of course, I also aim to bridge the business conduits between the city of Guangzhou in China and Miami," he said.
Huang earned a bachelor's degree in English literature from Huazhong Normal University. After spending four years in Pakistan and Nepal serving as a professional English interpreter and project manager, he returned to China to pursue a master's degree in international economics at Guangxi University.
After graduation, he was offered a job as a translator and program tutor for a joint-MBA program between a Chinese educational institution and the University of Western Sydney in Australia. He worked in this program for almost three years and supervised approximately 50 MBA students in their academic studies and dissertation writing, while assisting with the design of the students' curriculum. 
Huang is also a guest professor for the China-MBA program of Southern Cross University in Australia, where he teaches managerial economics. Since 1999, he has published more than 30 academic research papers.
— Nicole Tallman
More Features Articles