---
Features
Program Opens Global Options for Local Businesses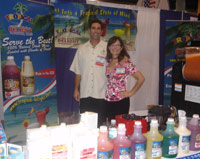 Bruce and Courtenay Russo
A government-funded program in MDC's School of Business is giving local agribusiness owners the tools to succeed in international markets.
Since 2003, more than 50 firms have taken advantage of the Minority Export Training Program and are exporting more than $25 million in food and domestic plants abroad. 
Funded by the Southern United States Trade Association and the U.S. Department of Agriculture, the program gives local firms the resources they need to operate successful export businesses. These resources include identifying international marketing and sales opportunities and building cash flow to seize desirable opportunities.
Between 2004 and 2005, King's Foliage Nursery in Homestead saw a 125 percent growth, and the Produce Connection of Miami saw export revenue rise more than three times to $3.397 million in a two-year period.
Tropical Delights Daiquiris, a Kendall company, was once a small family owned business with some clients in the Bahamas. Today, the company has clients throughout the Caribbean.
Courtenay Carr Russo, who owns Tropical Delights Daiquiris with her husband Bruce, said the program saved her company.
"It was a crucial time in our business because we had just lost a very large customer and we weren't really sure what to do in order to regain that revenue," she said.
Profits have more than doubled.
"We needed to find a way to supplement our revenue and gain what we had lost," Courtenay Carr Russo said. "Because of this program, we've been able to get new customers throughout the Caribbean."
The Russos said the free training came at the perfect time. "This course was a valuable resource," said Bruce Russo. "We couldn't afford to fly overseas, knock on doors and get paid."
Over a four-month period, the Russos and other participants in the program learned how to conduct and access market research designed specifically for food and agribusiness firms, how to get sales leads, participate in trade shows and trade missions, how to access working capital loans, secure payment, insure receivables, and more.
"We don't feel intimidated about doing business oversees anymore," Bruce Russo said. "We're still learning but we have so many places to go now to get questions answered and to find out information about potential companies that we feel that this program has given us a safety net with which to do business."  
— Tarnell Carroll
More Features Articles