---
Features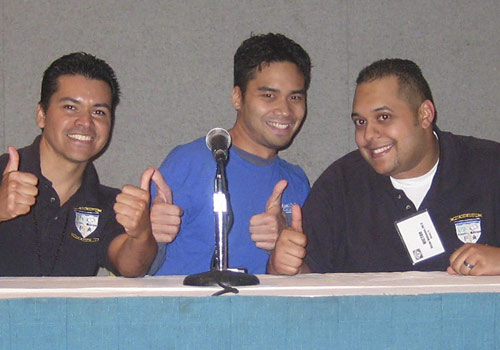 MDC Defeats Top Universities in National Challenge
Miami Dade College's physician assistant (P.A.) students have proven that they have more brainpower than their counterparts at the nation's top institutions, including the Ivy League Cornell University.
Competing in the National Medical Challenge Bowl, MDC's P.A. students took second place in a competition generally attended by students pursuing their master's degrees.
"We were the first program in Florida to reach the finals in 18 years," said Dr. Pete Gutiérrez, director of MDC's physician assistant program.
The team – Victor Quiñones, Jeffrey Abucay and Oswaldo Franco – qualified for the national competition after taking the state title earlier in the year. In addition to beating Cornell, the MDC team also bested Charles Drew University of Medicine and Duke, among others.
The competition consisted of two rounds of trivia, leading up to a final showdown. Participants from all over the country were quizzed on general medicine to more advanced knowledge, such as identifying the best place to insert a peripheral IV and why.
"Our students are the best of the best," Gutiérrez said. "We train our students for demanding careers in which they perform many different aspects of medical care."
— Barbara Bickel
More Features Articles