---
Features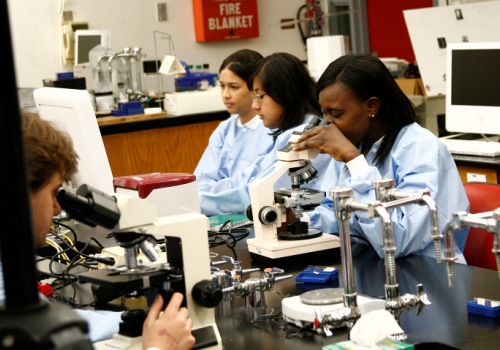 Science Research on the Rise
The College's Wolfson Campus has won a coveted opportunity to develop and test new ways of teaching and learning in the fields of biotechnology and biology.
The renowned National Science Foundation awarded the campus a Biotechnology Research Learning Collaborative (BRLC) grant, which it will share with Barry University and Altor BioScience, a biopharmaceutical company engaged in the discovery, development and commercialization of high-value, targeted immunotherapeutic agents for the treatment of cancer, viral infections and autoimmune diseases.
The BRLC grant will support MDC and its two research partners as they create a series of laboratory-based, small-scale research projects geared toward industry and tailored for two-year college students.
To secure this prestigious grant for the Wolfson Campus, Dr. Heather Belmont, the chair of the biology, health and wellness department at North Campus, worked with Dr. Edwin Ginés-Candelaria, professor of biology; Dr. Franklyn Te, associate professor of biology; Juan Morata, assistant professor of biology; and Valentine Negrouk, program manager for biotechnology initiatives.
"This grant will enable us to improve students' academic success and retention, ensure higher transfer rates into baccalaureate programs in biotechnology and raise the academic skill level in research-based learning of all biotechnology instructors," Ginés-Candelaria said.
The BRLC grant will also be used to implement research learning throughout the associate degree curriculum in biotechnology. "As a result, MDC students will be fully engaged through experiential learning in academic or industrial research during their tenure at MDC," Ginés-Candelaria said.
With its partners, MDC will develop model lab-based biotechnology research projects that advance student learning and scholarly knowledge of scientific topics. The BRLC will also enable the development of new instructional materials and the promotion of professional development among postsecondary biotechnology instructors, lab managers and tutors.
Faculty will test the learning effectiveness of the BRLC research projects as part of the curriculum for the college credit Biotechnology course from 2008 to 2011, using controlled and uncontrolled groups. MDC will target minority and women college students to participate in these original, lab-based research projects.
An external evaluator will then formally review the research-based learning activities for content, industry applications, replication, student retention and student learning.
BRLC personnel will compile a publication documenting the research project and evaluation of findings for use by college biotechnology instructors and lab managers. BRLC personnel will also evaluate further expansion of this program and its future engagements.
— Barbara Bickel
More Features Articles