---
Features
Journalism Speaker Series Gives Students Face Time With Professionals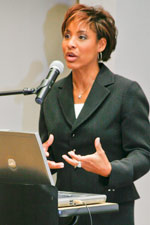 Julia Yarbough
When it comes to communication, there's no substitute for being face to face with someone. That's why MDC's Journalism Speaker Series, an ongoing exchange that gives journalism and communication students the chance to interact with seasoned professionals in their field, is so valuable.
"Getting feedback and advice from seasoned journalists can only help our young student reporters mature professionally," said Manolo Barco, advisor to the student papers  The Falcon Times  and  Metropolis .
Barco launched the series in 2007 with Cindy Irizarry, producer of  MDC In Focus .
The program brings journalists working in television, print and radio to the College.
Nick Spangler,  Miami Herald  reporter, spoke about what he experienced getting into the field and the important role internships played in his career.
Julia Yarbough, an Emmy-winning NBC 6 anchor/reporter and host of  CW News at Ten, brought a compilation of video clips of her best work.
Laurie Jennings, reporter and main anchor for Local 10 News, also gave a heartfelt presentation.
"She cried when she was explaining her career path and what that career means to her," Barco said. "I think that translates well to the students when you have professionals who are admitting that kind of passion for what they're doing."
Each event is free and open to the public. Barco and Irizarry are already at work on the lineup for next year's series, which will begin in October and include Don Hudson, managing editor of the  Clarion-Ledger  in Jackson, Miss.; Mike McQueen, AP bureau chief for the New Orleans branch; Dan Grech of NPR's  Marketplace; and Neki Mohan of Local 10 News.
— Natalia Maldonado
More Features Articles