---
Academics
Faculty lead assessment movement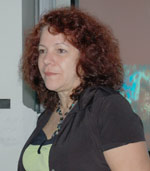 Dr. Miriam Frances Abety
To measure how successful the College has been in instilling the principles of its 10 Learning Outcomes, a Learning Outcomes Assessment Team was appointed to provide expertise in assessment design and collaborate with respective disciplines and student services departments to clarify and discuss the assessment process, among other tasks.
The team is comprised of full-time faculty, student affairs professionals and other college professionals with expertise in assessment and interest in designing performance — or authentic — assessments that require students to demonstrate their attainment of the learning outcomes.
Two years after the inception of the team, members continue to reflect on how the Learning Outcomes "movement" continues to positively impact their own philosophies of teaching, learning and assessment at the College.
Dr. John Frederick teaches Public Speaking & Debate and Foundations of Communications. Since joining the team, he said, he's noticed that his focus on assessment is much more intentional and targeted.
"From the very beginning, when I'm thinking of an assignment I ask myself constantly, 'which learning outcome am I addressing?'"
Frederick requires his students to prepare outlines before they speak; he has seen an improvement in their work because their speeches are more organized, structured. "Besides that, I have my students do group discussions on social and cultural issues and that really helps them bridge the gap between what's similar and what's dissimilar between themselves and other cultures." That ties in with Learning Outcome No. 5: widening global perspectives.
Being on the team has also helped him realize that there are different types of assessments and that one student might show that they've learned something in a different way than another student.
"I would love to see more faculty engaged in the intentional assessment of their students across different disciplines. That happens within the team — we have cross-disciplinary discussions — but it's not a part of the collegewide culture yet."
Dr. Miriam Frances Abety, a psychology professor at InterAmerican Campus, said her outlook has been affected by her membership on the inaugural Learning Outcomes Assessment Team.
"I think being on the team has really redirected the way I set up the course," she said. "I look at the outcomes now and try to infuse what we want to do with the outcomes into the actual material and curriculum. When you're working with faculty from all disciplines it helps to get a different point of view — you kind of tweak what they use in their classrooms with the different material and it really makes it more cohesive."
Abety, who also teaches Student Life Skills, has used ideas from faculty in the science disciplines to infuse service work into her curriculum. In a project concerning Earth ethics, she had her students research the psychological effects of global warming on people and also required her students to conduct interviews so they could learn those effects first-hand. "It's a great opportunity to really open up the curriculum and not only make what the students are learning relevant out of the classroom."
— Natalia Maldonado
More Academics Articles