---
Alumni News
Alumna finds career success, balances family life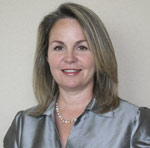 Iliana Miguel
Iliana Miguel says her biggest accomplishments are her two children.
"To me, family is number one," she said. "Being able to maintain a happy family alongside a successful career is something of which I am proud."
But with more than 20 years in the banking industry, the MDC alumna is also proud of her professional accomplishments – things she earned by working hard and climbing from the bottom up.
Miguel was born in Havana, Cuba. From Aug. 15 to Oct. 31 in 1980, more than 125,000 people fled Cuba by boat from Mariel Harbor. Miguel was among them. She was 15 and would learn English while attending Southwest High School.
After graduating, the obvious next step was enrolling at Miami Dade College. "It is a special place and I have wonderful memories of my years there," she said.
After MDC, she earned a bachelor's in finance, something she said she would never have done without the preparation she received at MDC. "I felt more prepared and ready to succeed after I left," she said.
Miguel's first job at Republic Bank was as a secretary. She soon moved up the ranks to loan officer and new accounts. Later she moved to Barnett Bank, where she stayed for eight years. When Bank of America purchased the company, she transitioned over to the new bank.
Now, Miguel is the vice president and client manager in the premier banking and investments division and attends to clients with more than $300,000. "I structure personalized financial plans for my clients and assist them in adjusting their plans when their lives change," she explained. "But really, I help people realize their dreams and goals."
The company has also accommodated her throughout the years during her personal life changes. "This position allows me to schedule my days according to my needs," she said. "I have the freedom to manage my time." With that flexibility, she can spend more time with her three most valuable clients: her husband, Luis; her daughter, Liana, and her son, Luis Jr.
— Katherine Joss
More Alumni News Articles