---
College Notebook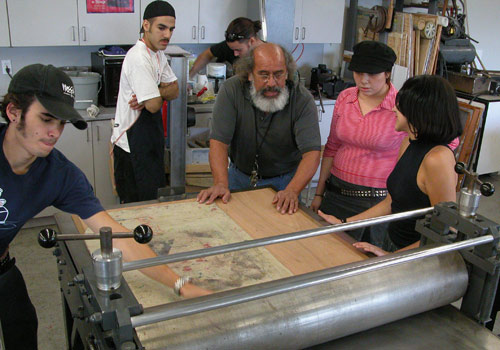 Outstanding faculty awarded for excellence
Alberto Meza lives and breathes creativity. He is the son of a fine cabinet maker and an award-winning toy maker, and he was raised to appreciate art. The Kendall Campus professor of fine arts is a cultured and well-traveled educator with a passion for enriching students' lives through his craft.
Meza joined the faculty at Miami Dade College in 1991. He has incorporated numerous aspects of the visual and performing arts into his syllabi, encouraging students to creatively use their imaginations to create works of art. With activities like writing poetry, playwriting, and even acting as curators to international art exhibitions, Meza's students get an immense exposure to the arts.
Through the years, he has received numerous commendations, including a Certificate of Merit at the Seventh Kochi International Triennial Exhibition of Prints in Japan. But his greatest pride lies in the accomplishments of his students, some of which have exhibited their work in local, national and international venues.
Meza's long-term and unwavering dedication to student success earned him an Endowed Teaching Chair award but he is not alone. A committee of MDC faculty members selected eight distinguished professors to be recognized for developing effective teaching strategies, demonstrating professional growth and making student learning their top priority. The Miami Dade College Endowed Teaching Chair Program represents the institution's highest faculty commendation. Since the program's inception in 1992, more than 250 awards, worth $5.6 million, have been bestowed on MDC faculty. Each recipient receives an annual stipend of $7,500 for three years.
To receive an award, applicants undergo a rigorous screening process. In addition to a 15-page narrative, they also submit official transcripts, performance reviews, self assessments and student feedback for the prior three to six years of full-time teaching. The 2008 honorees, representing five campuses and seven academic disciplines, will be honored at a reception dinner Oct. 21 at MDC's Wolfson Campus.
"These awards honor MDC's most outstanding faculty, the very best in higher education," said MDC President Dr. Eduardo J. Padrón.
Also honored this year is North Campus' Dr. Sandra Schultz who began her career at Miami Dade College in 1977 as a volleyball and softball coach. Schultz also helped develop the Fitness and Wellness for Life course, teaching thousands of students how to improve their health and nutrition while reducing their risk of cardiovascular disease.
In her constant pursuit to engage students, she looks for ways to continue student learning beyond the walls of the classroom. One of her most recent achievements was to play a key role in the North Campus Rejuvelake Project. She is also developing a new Fitness Instructor program, which will help students meet the qualifications to enter the fast-growing health and fitness industry.
Schultz continues to contribute to the College through active participation in the Faculty Leadership Seminar, the Learning Outcomes Assessment Team, the Strategic Planning Committee and the North Campus Wellness Day Committee, which she chairs. Last year, more than 500 community residents attended North Campus' Wellness Day.

— Staff Report
More College Notebook Articles