---
Cultural Spotlight
Sculptor's family donates artwork to North Campus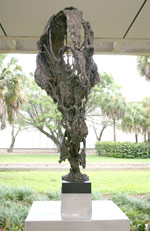 The Philosopher, an abstract sculpture donated to Miami Dade College's North Campus
The family of the late Rose Alterman, an esteemed sculptor, donated one of her most magnificent pieces to Miami Dade College's North Campus.
The Philosopher, an abstract interpretation of the father of modern logic, Bertrand Russell, is now part of the permanent art collection of North Campus.
"We believe that it is a tremendous honor and tribute to our mother that Miami Dade College has included The Philosopher in its prestigious collection," said Alterman's sons, Rick, Johnny and Bryan Alterman, in a joint statement. "We know Rose would be pleased that it is being placed in a setting that reflects the values and ideals of Bertrand Russell."
The work was unveiled to the College community at a special dedication ceremony. Dr. Rick Alterman, speaking on behalf of the family, thanked the College's administration and gift committee for accepting his mother's sculpture. He also reflected on the connection between the artwork's new home and his family's long history with the campus.
For more than 35 years, Alterman Transport Lines — the Alterman family's transportation company — had its trucking terminal and general headquarters in northwest Miami-Dade County, near MDC's North Campus. Over the decades, the company employed many North Campus students and after completing their studies, many stayed with the company.
Rose Alterman was born in Philadelphia to Ukrainian immigrants. She eventually moved to South Florida prior to World War II. She created more than 90 pieces, many of which were displayed in galleries throughout Florida. Alterman died in the 1970s.
The Philosopher will become part of an abundant and growing art collection at North Campus, home to the renowned Miami International Sculpture Park and the largest collection of sculpture at the College.
"We are very grateful to Mr. Alterman and his family for making this invaluable donation," said Dr. José A. Vicente, president of North Campus. "This is an incredible piece with much historical value and a wonderful contribution to our current sculpture collection."
— Staff Report
More Cultural Spotlight Articles