---
Cultural Spotlight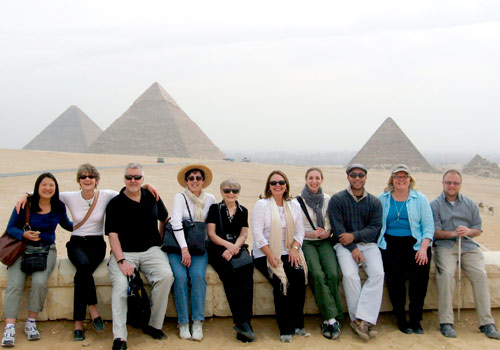 Literature program bridges cultures
The National Endowment for the Arts (NEA) recently announced that MDC's Florida Center for the Literary Arts (FCLA) will receive a major grant to help launch The Big Read Egypt/U.S. FCLA was only one of four organizations selected to promote the global cultural exchange program.
The program launches with the selection of Nobel Laureate Naguib Mahfouz's The Thief and the Dogs. Set in post-revolutionary Egypt, The Thief and the Dogs shows how resentment, reprisal and destitution can shape and shatter human destiny.
Mahfouz is the best known and most widely respected 20th-century writer in the entire Arab world. In 1988, he became the first Arabic writer to win the Nobel Prize in Literature. He died in 2006.
In addition to the reading initiative, FCLA will present cultural events to coincide with The Big Read Egypt/U.S. To celebrate the official launch on Tuesday, Oct. 7, there will be a screening of Umm Kulthum, a documentary about one of Egypt's greatest singers, at the Bill Cosford Cinema at University of Miami. The film is directed by Michal Goldman and narrated by Omar Sharif.
Other films to be screened at the Cosford Cinema include Adrift on the Nile. Directed by Hussein Kamal, Adrift will be screened on Monday, Oct. 20. The Yacoubian Building, directed by Marwan Hamad and adapted from the novel by Alaa Al Aswany, will be screened on Wednesday, Oct. 23. And Chased by the Dogs, directed by Kamal El Sheiken, will be screened on Tuesday, Oct. 28.
The Tower Theater will present two Spanish-language films, including El Callejón de los Milagros, directed by Jorge Fons, on Wednesday, Oct. 8 and Principio y Fin directed by Arturo Ripstein, on Tuesday, Oct. 14.
Several events are also scheduled for the Egypt Pavilion at Miami Book Fair International.
Cleopatra: First Woman of Power, directed by Katherine Gilday and narrated by Anjelica Huston, will be screened on Saturday, Nov. 15, and Sunday, Nov. 16.
A wealth of panel discussions and exhibitions will also be featured in the Egypt Pavilion, including "Echoes of Women's Voices"; "The future of the Arabic literary world in the shadow of Naguib Mahfouz"; and "The Making of Modern Cairo: The Beaux-Arts Movement in Egypt and the Modernization of Cairo."
Dr. Azza El Kholy, director of special projects at the Bibliotheca Alexandrina will give a presentation at the Miami-Dade County Main Library on Thursday, Oct. 2. Dr. El Kholy will also talk about the role of libraries and freedom of information at the Wolfsonian Museum on Friday, Oct. 3.

— Katherine Joss
More Cultural Spotlight Articles