---
Cultural Spotlight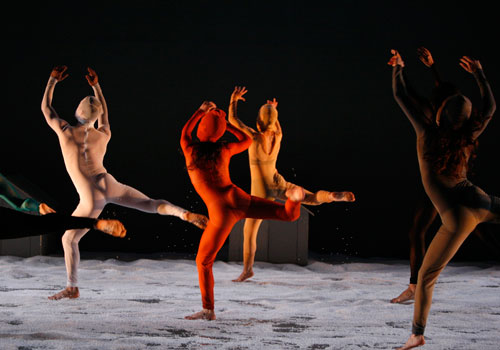 'Shaker' opens Cultura del Lobo season
The newest dance-theater piece by Inbal Pinto and Avshalom Pollak looks and feels like one of those eerily beautiful but grey winter days, fitfully seen through whirling snow from the window of a fast-moving train.
Shaker is seamless blend of modern dance, mime, ballet and acrobatic technique interspersed with humor and intellect. The inspiration for the piece came from the little glass snow globes that fill with snowflakes each time you shake them.
"The world inside the shaker is not necessarily happy. It has it all - good, evil, happy and sad," Pinto said. "We used the imagery of melting ice.
"The piece starts off in a frozen state, and slowly, the ice breaks. It is somewhere between dark and silly. When the two sides are tied to each other, they fight, make up, and can't be one without the other."
Part of a new generation of Israeli choreographers, Pinto and Pollak are known for an ability to weave fantasy, drama and comedy into their work, achieved by the innovative use of both dancers and actors, and a uniquely visual approach to production values.
"The Inbal Pinto Dance Co. is the premier contemporary dance company of Israel," said Greg Jackson, artistic and interim executive director of MDC's cultural affairs department. "This performance is made more special because it coincides with the 60th anniversary of the UN's recognition of the state of Israel." There will be worldwide celebrations taking place to honor the occasion and it is only fitting that Miami be included.
"They are an amazing dance troupe. You can expect the unexpected," he added.
During the performance, there are three tiny grey huts into and from which the dancers appear and disappear, as mysteriously as they emerge from the wings or the ground. The world created on stage becomes a hypnotic fantasy that could be anywhere, or nowhere.
There is both a satirically nightmarish quality as well as Dadaist absurdity.
"Shaker is so beautiful and touching that it hurts, like a poem that strikes the right chords," said the Jerusalem Post.
Inbal Pinto Dance Co.
Shaker
Saturday, October 25
Showtime: 8 p.m.
Location: Gusman Center for the Performing Arts
174 E. Flagler St., Miami (Downtown)
— Katherine Joss
More Cultural Spotlight Articles