---
Cultural Spotlight
Jazz series continues with 'musician's musician' Andy LaVerne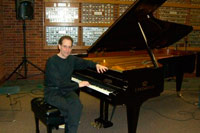 Andy LaVerne
Respected jazz pianist Andy LaVerne will perform at Miami Dade College's Jazz at Wolfson Presents series later this month.
Each year, organizers of the series, now in its 11th season, invite renowned musicians to the campus to educate its jazz students, as well as to offer a cultural experience for the rest of the college community and the people of downtown Miami.
"LaVerne is a serious jazz artist," said Dr. Mike Di Liddo, music professor at Wolfson Campus, who is coordinating the series. "He is a musician's musician. His style is intense, with no whitewash."
LaVerne is also a longtime composer, arranger and educator.
As a recording artist, he has been the leader in more than 50 projects and contributed to countless others. Also, he has worked with famous musicians including Frank Sinatra, Dizzy Gillespie and Chick Corea. Recently, he toured and recorded with legendary singer/songwriter Neil Sedaka.
LaVerne's impressive resume also includes a dozen songbooks and several video guides for musicians. He is a professor of jazz piano at the Hartt School of the University of Hartford and is on the faculty of the Aebersold Summer Jazz Workshops, which produces some of the best intensive programs for learning jazz improvisation.
"We are excited to see what he brings to the series through his own personal approach to jazz," Di Liddo said.
Andy LaVerne, Oct. 22, Noon
Miami Dade College's Wolfson Campus 300 N.E. Second Avenue, Building 3, Room 3210
— Pilar Ulibarri de Rivera
More Cultural Spotlight Articles