---
Features
MDC gets major presence on the small screen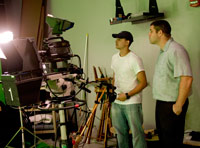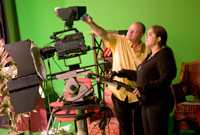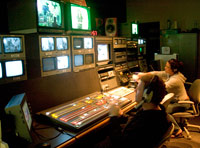 Students work in MDC's television studios
Miami Dade College recently launched the newest component to its educational arsenal: MDC TV, the College's own television network.
MDC TV is broadcast to more than half a million cable TV subscribers throughout Miami-Dade County via Miami-Dade County's community access channel, Cable-TAP.
"Once again, MDC is leading the way in higher education by acquiring the operation of its own broadcast television network," said North Campus President Dr. José Vicente.
The new channel is programmed and operated by MDC's renowned School of Entertainment & Design Technology (SEDT).
"With all of the opportunities we've been provided with recently, there's been a considerable upgrade in the quality of programming and the broad range of talent in producing, editing and writing by our staff," said Barry Gordon, director of SEDT.
The College operates two television studios – at North Campus and at Homestead Campus.
MDC TV provides students the opportunity to get hands-on experience working in all areas of production on a broadcast channel with a large viewing audience. In addition, last year Univision Television Inc. gave the College a $250,000, state-of-the-art television studio set.
Because the studio crew is comprised of advanced television production students, MDC is able to offer real-world training in the highly competitive field of television production.
With the aim of showcasing its outstanding academic programs and leadership in community-wide events, MDC produces all programs for the network, including shows in English, Spanish and Haitian Creole.
Broadcast hours are 8 a.m. to 10 p.m., seven days a week, but thanks to the network's live-streaming Web site and video-on-demand capability, MDC TV programs can be accessed 24 hours a day from anywhere in the world.
"We invite you to enjoy the vast array of educational and entertaining programs presented on our network and welcome your comments and suggestions," Gordon said.
For schedules or information, visit www.mdc.edu/mdctv.
— Tarnell Carroll and Katherine Joss
More Features Articles