---
Academics
New center addresses Miami's service excellence needs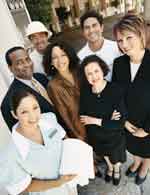 South Florida's workforce can now be trained in service excellence at MDC.
Miami is a dynamic city, a destination for more than 11.3 million annual visitors and home to people from 180 nations.
The city boasts some of the most important cultural and entertainment events in the world, including Art Basel, Miami Book Fair International and the Calle Ocho street fest, to name a few.
But it's not just about fun in the sun. Tourism is big business in South Florida. The hospitality and leisure industry employs more than 100,000 people, and revenue generated by tourist-related taxes amount to $106 million annually.
At the core is service excellence. How we treat our visitors has a direct impact on our bottom line. That's why Miami Dade College and several other founding partners joined together recently to create the Center for Service Excellence.
Housed in the School of Community Education at Miami Dade College's Kendall Campus, the Center for Service Excellence offers certification programs, courses, seminars and workshops focusing on providing service excellence at all levels.
The College first got a request from retail businesses to develop specially tailored programs for employees. Later, requests came in from banking and other financial service industries.
At the same time, the Greater Miami Convention and Visitors Bureau launched "Miami Begins With Me," a campaign to raise awareness among residents and businesses of the need for service excellence.
National conventions were coming to Miami and reporting they wouldn't return because of the lack of customer service. "There literally should be a culture of much better customer service in the community," said Dr. Gregory Gray, president of MDC's Kendall Campus. "In the long term, if more conventions don't return to this area, that would mean millions of dollars lost."
The Center for Service Excellence is now the official training arm of the "Miami Begins With Me" initiative, explained Isabel Medina, chair of community education at Kendall Campus and a chief architect of the center.
A key component of the center is the customized service excellence workshops it provides to area businesses. Working closely with business and training partners, the center provides customer training workshops to individuals, teams, entire divisions and companies to meet specific needs.
For example, The Double Tree Grand Hotel on Biscayne Bay, a founding partner, arranged to have employees of the hotel and its on-site vendors trained in service excellence.
"While we have a general outline for all of our programs, the culture and needs of our clients are different, so we customize," said Medina, who has done corporate training for 25 years.
"Customer service needs to be a communitywide movement," Medina said. "It's not just about the hotels. It's about banks, grocery stores, gas stations, taxi drivers and teachers. It's about all of us."
— Gariot P. Louima
More Academics Articles