---
Alumni News
Alumna broke ground as first female mayor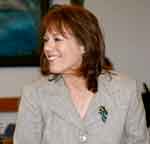 First Female Mayor of Homestead, Lynda Bell
Lynda Bell was elected mayor of the city of Homestead in November 2007 for a two-year term.
She has the distinction of being the first woman mayor in the city's 94-year history.
"I overcame stereotypes and many challenges, but it has been exciting," she said. "I was elected because the people perceived me to be the right person to do the job and I am honored to do it."
Bell has resided in Homestead since 1979. She was born in Hollywood, Fla., and graduated in 1975 from Nova High School in Ft. Lauderdale. She graduated with honors from Miami Dade College in 1997 and received an Associate in Arts with a concentration in communications.
"In many ways, I feel like I was a never-ending student at Miami Dade College," she jokes, "because I have taken so many classes there over the years."
"My academic experience was excellent. I am impressed with the professors at Homestead Campus and the quality of the education I have received."
Bell believes strongly in volunteerism and has dedicated herself to the community. She says that she was always interested in politics. While at MDC, she participated in "behind-the-scenes work" for her party and worked for a nonprofit organization.
That transitioned into work with other local organizations and then, eventually, into city politics, first as a member of Homestead's city council and then as vice mayor.
"I have seen many changes throughout the years," Bell said.
As mayor, Bell is focused on managed growth, economic development and improving the quality of education and the quality of life, and the Main Street revitalization, to name a few.
"Managing the future growth of our city is critical. The decisions made today will impact us for the next 50 years."
Bell's numerous professional awards include the 2004 Athena Award from the Greater Homestead/Florida City Chamber of Commerce.
The Athena Award honors professional excellence, community service and those actively assisting women in their attainment of professional excellence and leadership skills.
When asked what advice she would offer to young women looking to enter the political arena, she said: "Prepare yourself with an education and get involved at some level early. Inject yourself into the process and don't let anyone hold you back."
Bell has lived in Homestead for almost three decades. She and her husband, Mark, have three children and seven grandchildren.
— Katherine Joss
More Alumni News Articles