---
Alumni News
Alumnus fulfills childhood dream to serve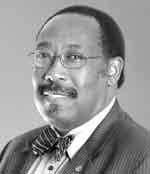 Alexander C. Wynn III
Alexander C. Wynn III has always wanted to pursue a life of service as a mortician.
So when he learned of MDC's mortuary science program from a college representative while at a basketball tournament, Wynn made up his mind to leave his home in Sanford, Fla., to study in South Florida.
"The program at Miami Dade was excellent," recalls Wynn, who earned his associate degree in 1970. Today, he is the owner and director of three funeral homes. "Everything I learned in the program helped me to become the professional that I am today. Me and my classmates kept in touch throughout the years. We helped each other as we were growing in our careers."
Wynn said one of the greatest things he learned at MDC was the importance of teamwork and collaboration. Most major assignments required students to work together to get things done. That sense of community and support came in handy when he launched his career.
Wynn earned his bachelor's in science and education from Shaw University. He would receive his professional training at the Wilson-Eichelberger Mortuary in Sanford, the Zanders Funeral Home in Apopka, Fla., and R.J. Gainous Funeral Home in Daytona Beach, Fla.
The Gainous Funeral Homes has an esteemed history, and this is where Wynn would establish himself as a leader in his profession.
In the early 1940s, Berk Bethune, son of the legendary Dr. Mary McLeod Bethune, founded the Bethune Funeral Home in New Smyrna Beach, Fla. Dr. Rabie Gainous, a science professor at Bethune-Cookman College (now Bethune-Cookman University), wanted to expand his career to include mortuary science. Gainous became a licensed funeral director and embalmer and purchased the Bethune establishment, renaming it R.J. Gainous Funeral Home. 
Wynn joined the company as an intern. In 1980 he purchased the R.J. Gainous Funeral Home, and he renamed it Gainous-Wynn Funeral Home Inc.
A year later, he became co-owner of the Gail & Wynn's Mortuary in Orlando. 
Following the death of his mentor in May of 2003, Wynn became the sole proprietor of the R.J. Gainous Funeral Home.
In addition to his work as a business owner, Wynn is a Florida Department of Juvenile Justice hearing officer. He is also an active member of the Allen AME Church of Sanford and Mt. Zion AME Church of Daytona Beach, where he serves on the Pastor's Aide Board. In 1999, he was named Florida Mortician of the Year.
Wynn is the past president and chairman of the Florida Morticians Association and the current vice president of Epsilon Nu Delta Mortuary Fraternity.
— Staff Report
More Alumni News Articles