---
Cultural Spotlight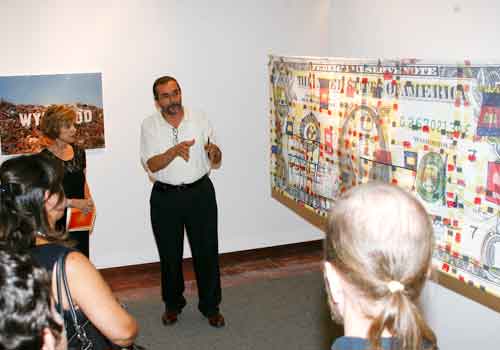 Exhibition paints kaleidoscopic portrait of Miami
More than 20 local artists were involved in a the provocative recent exhibition at Miami Dade College's West Art Gallery.
Miami: City – Metaphor was an interesting mix of works inspired by the intrepid pace of the city. The project reflects Hispanic artists' perception of daily life in Miami, including the diversity and cultural aspects that are present in everyday interaction.
"Miami is a space that never ends," said Jorge Luis Gutiérrez, director and chief curator for MDC's art gallery system. "It is always rebuilding itself."
Proof of that, is the gallery itself, which is the first in the City of Doral, a suburb of Miami. It opened last year to much praise by the community.
Its current exhibition displays pieces by emerging, mid-career and established artists, most of whom come from different places but have one common denominator: They have stayed to live and work in Miami.
One such artist is Colombian-born María Adelaida López who created The Johnsons and the Ramirezes, a sculpture endearingly dubbed "la casita," or the little house. She created the sculpture from vacuum lint, which represts the time she spent cleaning houses to support herself in the U.S. before becoming an established artist and an educator.
Lopéz has said it is a metaphor for the space you have to share with others, the cultural space, the urban space. ... It stands for the diversity in Miami, where in one block you have Americans, Latin Americans and Europeans living alongside one another.
"It's interesting to see how artists approach the theme in different ways," Gutiérrez said.
— Pilar Ulibarri de Rivera
More Cultural Spotlight Articles