---
Cultural Spotlight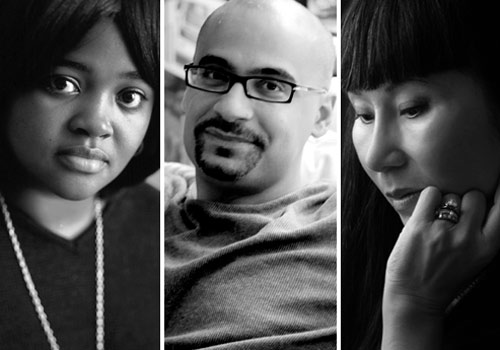 Award-winners dominate schedule at book fair
The 25th Miami International Book Fair will not disappoint those seeking literary star-power. The Fair will welcome Junot Díaz, the 2008 Pulitzer Prize-winning author of The Brief Wonderful Life of Oscar Wao, best-seller Amy Tan, black feminist author Sister Souljah, and many more literary stars. This year's popular "Evenings With …" series will feature:
Nov. 9: Tavis Smiley and Dr. Cornel West
Tavis Smiley offers a searing account of his life of poverty, ambition, pain and atonement in his memoir, What I Know for Sure: My Story Growing Up in America (Anchor), a New York Times best-seller.
One of America's most provocative public intellectuals, Cornel West's writing, speaking and teaching weave together the traditions of the black Baptist Church, progressive politics and jazz. The New York Times has praised his "ferocious moral vision."
Chapman Conference Center, Wolfson Campus, 7 p.m.
Nov. 10: David Sheff
Journalist David Sheff's Beautiful Boy is based on Sheff's article "My Addicted Son," which appeared in the New York Times Magazine. The article and the book chronicle the author's son's downward spiral into meth addiction.
Chapman Conference Center, Wolfson Campus, 8 p.m.
Nov. 11: Brian Greene
In Icarus at the Edge of Time, Brian Greene has given us a fable about fathers and sons, curiosity and wisdom, and the complexity of the universe as only a physicist of his range and lucidity could. Greene is a professor of physics and math at Columbia University; he is widely regarded for a number of groundbreaking discoveries in superstring theory.
Chapman Conference Center, Wolfson Campus, 8 p.m.
Nov. 12: Ishmael Beah
Ishmael Beah tells the powerfully gripping story of his own journey as a child soldier, through hell and back. In his own words, A Long Way Gone: Memoirs of a Boy Soldier tells a story of redemption and hope.
Chapman Conference Center, Wolfson Campus, 8 p.m.
Nov. 13: Mario Batali and Anthony Bourdain
When Mario Batali won the 2005 Chef of the Year award from the James Beard Foundation, it was the culmination of decades spent enjoying, preparing, studying, sharing and reinventing Italian cuisine. His most recent book is Italian Grill (Ecco), the ultimate handbook on Italian grilling.
Anthony Bourdain is as irreverent, opinionated and entertaining as always in The Nasty Bits (Bloomsbury), his book of essays derived in part from his popular television travelogue series, No Reservations.
Building 1 Auditorium, Wolfson Campus, 6 p.m.
Nov. 13: Gore Vidal
Gore Vidal, fearless, willing to experiment, willing to explore in literature, life and politics, is widely considered the greatest English-language essayist of the 20th century. Vidal has authored more than 20 novels, five plays, many screenplays, hundreds of essays and a memoir. His latest book is The Selected Essays of Gore Vidal (Doubleday).
Chapman Conference Center, Wolfson Campus, 8 p.m.
Nov. 14: A Celebration of Cities of Refuge with Derek Walcott, Russell Banks, Sarah Mkhonza, Irakli Kakabadze, Wole Soyinka and Helge Lunde
In many parts of the world, for those who dare to question authority, writing is a perilous act. And so some of the world's most famously endangered writers created an organization – Cities of Refuge North America – dedicated to saving persecuted scribes by cultivating safe havens for them in North America. The organization, established in 2003 by acclaimed novelists Russell Banks, Salman Rushdie and Wole Soyinka, has thus far relocated nine threatened writers to American cities.
Derek Walcott has received the Nobel Prize in Literature and the "genius" award from the MacArthur Foundation. A native of St. Lucia, he is the author of 13 collections of poetry, including Selected Poems (Farrar, Straus and Giroux), which spans 50 years of work. Walcott is also the author of seven collections of plays and a book of essays.
Chapman Conference Center, Wolfson Campus, 6 p.m.
Nov. 14: Billy Collins and Robert Hass
Robert Hass, a former U.S. Poet Laureate, examines the human impact on the planet at century's end in a nine-part verse-essay that appears in Time and Materials: Poems 1992-2005 (Ecco), his first book in 10 years. Hass is a MacArthur Fellow and two-time winner of the National Book Critics Circle Award.
Billy Collins' stunning new collection, Ballistics: Poems (Random House) finds truth in small details. At once moving and playful, the poems tackle a variety of subjects from love to death, youth and aging. Collins is a former Poet Laureate of the U.S. and New York state.
Chapman Conference Center, Wolfson Campus, 8 p.m.
Tickets are required for all "Evenings With..." events. They can be downloaded for free at www.miamibookfair.com. Call 305-237-3258 for more information.
— Katherine Joss
More Cultural Spotlight Articles