---
Cultural Spotlight
Revolutionary daughter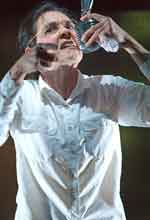 Marissa Chibas
Protean performer Marissa Chibás tells an astonishing tale in Daughter of a Cuban Revolutionary. Centered on three towering figures in her life – her father, Raúl Chibás, who co-wrote the manifesto for the Cuban revolution with Fidel Castro; her uncle, Eddy Chibás, who was the frontrunner for the Cuban presidency in 1951 before committing suicide during a live radio broadcast; and her mother, Dalia Chibás, Miss Cuba runner-up in 1959, the show is a solo theatrical tour de force.
"The performance is mesmerizing," says Gregory Jackson, artistic director of the cultural affairs department. "The production has been staged in both Los Angeles and New York, but it will, perhaps, be most relevant to members of our community who vividly remember the events surrounding the larger than life figures of this family."
Zigzagging through her own stories and key episodes in the history of her illustrious family, Chibás gives an impassioned, live-wire performance that is propelled by her near-death experience in the Venezuelan Amazon.
At one point, Chibás yells out: "I am the daughter of those in Cuban prisons who dared demand their human rights. I am the daughter of those who fight tyranny wherever it may be."
The production is part of the Cultural Fringes Festival celebrating the 25th anniversary of Miami Book Fair International. The play will be presented at the William & Joan Lehman Theater at MDC's North Campus, Nov. 14-16.
The Cultural Fringes Festival, new to the Book Fair this year, will feature premier and emerging arts groups presenting theater, film, dance, fine arts, photography and music programs celebrating literature and the fair's history.
— Katherine Joss
More Cultural Spotlight Articles