---
Cultural Spotlight
FCLA plans fall literary feast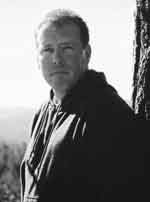 Brian Turner
The Florida Center for the Literary Arts at Miami Dade College has outdone itself with its fall programming.
Besides establishing a cultural dialogue between Americans and Egyptians through The Big Read, a program of the National Endowment for the Arts, the Center's fall calendar includes presentations by an Iraq war soldier-turned-poet and modern Jewish storytellers, and a reading by one of the most renowned American photographers of our time.
Award-winning soldier-poet Brian Turner, who served seven years in the U.S. Army, will discuss his book Here, Bullet, a harrowing first-person account of the Iraq war.
To tickle the funny bone, Heeb Storytelling will present seven local favorites — performers, comedians, writers, artists and musicians — who will tell stories about what it means to be Jewish in the 21st century. Stories told at past shows have run the gamut: from experiencing darkness and debauchery on a lonely Christmas Eve to kissing former child star Ricky Schroeder at a cheesy family resort to growing up as Richard Pryor's Jewish daughter.
Photography enthusiasts will be able to take in a presentation by Annie Leibowitz, whose career includes chief photographer for Rolling Stone magazine and portrait photographer for Vanity Fair magazine. Leibowitz, who is most known for her celebrity portraits, will discuss her book Annie Leibowitz at Work, which describes how her pictures were made.
Other programs rounding out the Center's fall calendar include creative writing workshops, where students will learn skills such as storytelling for social impact to how to create and write for an online blog.
Also, among the Spanish-language programming are an advanced narrative writing workshop and the Prometeo Theatre workshops, which include movement, voice and diction and audition techniques.
Even children's programs in English and Spanish are on the calendar of events for fall.
— Pilar Ulibarri de Rivera
More Cultural Spotlight Articles