---
Cultural Spotlight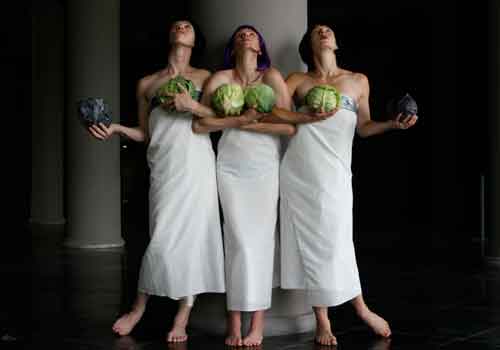 New performance explores our connection to the ordinary
Part performance art, part ritual and part techno extravaganza, The Objectification of Things is artist Michelle Ellsworth's attempt to illuminate the importance mere objects have in our lives.
Ellsworth calls Objectification her "physical conversation about materialism." The piece, co-commissioned with Cultura del Lobo's Center for Cultural Collaborations International, the National Performance Network and DiverseWorks, opens Nov. 21 at the Byron Carlyle Theater in Miami Beach as part of the Cultura del Lobo performance series.
Through the piece, Ellsworth challenges her audience to think about the significance of seemingly ordinary objects. She draws heavily on her personal experiences and was inspired by her own visceral reaction to the change of an ordinary object – the repaving of her driveway – in creating the piece. "I was surprised by how much I missed the old driveway and it led me to think about our relationships to inanimate objects," she said.
Too often "things" are dismissed as soulless or inanimate. To these familiar charges, Ellsworth reminds us that no person or animal has the reliability and predictability of most objects.
Ellsworth fuses written text, music, built sculptures, projected images and video installations with other technology into her performances.
"She is an engaging performer," Gregory Jackson, artistic director of MDC's cultural affairs department, noted when they met. "She is a woman for all seasons."
With seed money from the Ford Foundation, MDC established the Center for Cultural Collaborations International to gather the human and financial resources needed to assist artists in creating new work and making lasting, meaningful ties to a community.
— Katherine Joss
More Cultural Spotlight Articles