---
Features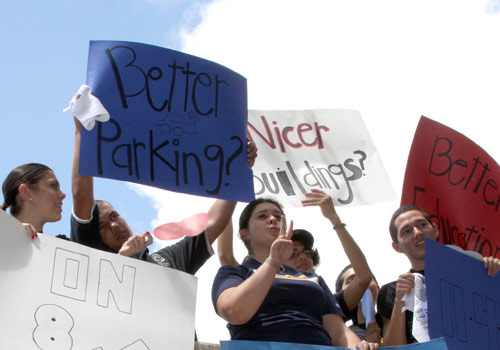 Students and major organizations support Amendment 8
As Brandon Janvion explains it, he is "completely engrossed with Amendment 8."
As a member of the North Campus Student Government Association (SGA), the broadcast journalism/mass communication major has been working to inform his classmates about the proposed amendment to the State Constitution.
Janvion has been the face of Amendment 8, lending his likeness for posters, flyers and advertisements that have appeared throughout Miami-Dade County.
If passed, Amendment 8 creates a process for local communities to impact the future of their community colleges. Supporting Amendment 8 won't cost voters a cent.
After College President Dr. Eduardo J. Padrón informed students, faculty and staff about Amendment 8 in conversations at MDC's eight campuses, students have taken up the informational campaign on their campuses and in their communities.
As a result, major organizations throughout Miami-Dade County and the state have announced their support of the measure. Associated Industries of Florida, the Beacon Council, CAMACOL, Greater Miami Chamber of Commerce, Florida Tax Watch, Miami-Dade County League of Cities, SEIU, South Florida Hispanic Chamber of Commerce, United Faculty of Florida and many others support Amendment 8.
For nursing student María Medina, there was no second-guessing her support. Medina has been a constant presence in the atrium at Medical Center Campus, where she and other members of the campus SGA hand out information pieces and answer questions.
Medina said that responses from classmates and individuals in the community have been positive. "I wasn't really surprised," she said. "I was hoping, expecting that it would be like that. I don't see why you'd be against it. MDC has been a passport to quality education for millions."
In more than half of the states in the U.S., including New York, Texas and California, citizens have options on how to support their colleges.
Miami Dade College, for example, is the largest public institution of higher education in the country. More teachers, nurses, police officers, civic leaders and other professionals earn their associate degree at MDC than at any other institution in the country.
Medina entered MDC's nursing program after giving birth to her son. She was familiar with the College's stellar programs and affordability. She hopes to continue her studies in the baccalaureate program after earning her associate degree.
"I want to be able to support my college and I want to be able to keep the open door that Miami Dade College is known for," Medina said. "I want to give everyone in the county an opportunity to better themselves through education."
Janvion shared the sentiment. "Miami Dade College has done many amazing things for me and so many others," he said. "As a future graduate, I feel it is my responsibility to support the College in any way possible."
"In this case, that means voting yes for Amendment 8 on Nov. 4 by marking 140 on the ballot."
— Staff Report
More Features Articles